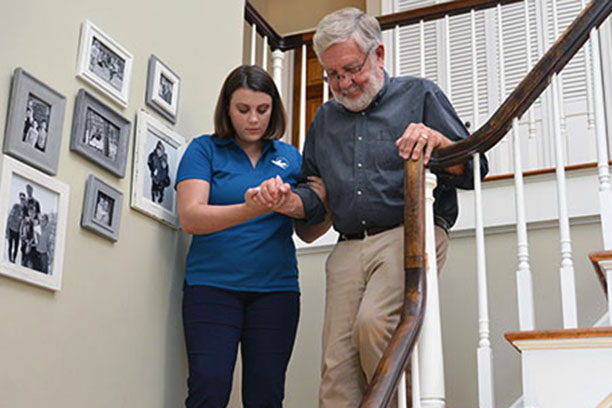 Fall Prevention with Companion Home Care Services for Seniors in Kilmarnock, VA and Nearby Areas
With adult home care services from Visiting Angels, NNMP, we help seniors throughout Kilmarnock, Gloucester, White Stone and surrounding communities in Virginia avoid fall-related risks
Did you know that falls are the main cause of emergency room visits by older adults?
When we are younger, we do not think twice about falling. It is an event that really can happen to anyone at any time, but few will really walk away with more than a scratch. That is because most individuals can take a fall very well. Older adults, on the other hand, are not able to. Unfortunately, for most seniors, taking a fall can mean hospitalization, and many older adults are never the same after taking a fall. That is why proper companion home care always takes into account fall prevention. At Visiting Angels, NNMP, fall prevention is a major part of our adult home care services, and we will do everything in our power to make sure your loved one does not take a fall.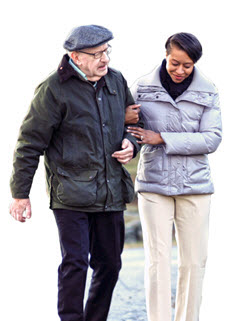 Taking a fall will inevitably end up having a negative impact on your senior loved one's physical health. However, the emotional and social toll that taking a fall will take on your senior parent will be much greater. Because of this perpetual fear of falling, most seniors find it hard to get the motivation to leave the house. They often find it difficult to attend social events and family functions because of this fear, and this in turn leads to feelings of loneliness. They often are riddled with feelings of anxiety, depression and sadness and it all usually stems from this fear; a fear that we help our senior clients manage and overcome through quality companion home care solutions.
The Life-Changing Nature of Falls:
Yearly, one in three elderly adults fall; more importantly, one in five older adults fall and sustain injuries that can range from bone fractures, concussions, broken hips and other injuries
The likelihood of an elderly person falling again after the initial fall is exponentially higher; it is further reduced with professional senior support services that takes this into mind
More than 800,000 elderly individuals fall yearly and are hospitalized because of it
The recovery time for serious falls can often be over a year, and individuals who are in long-term care often don't ever return to their homes
How Our Companion Home Care Services Help Seniors in Kilmarnock and Surrounding Communities Stay Safe
Falling often is the result of one of many risk factors, and these risk factors increase the chances of falling greatly for elderly persons. These risk factors are often associated with home or environmental hazards, but can arise from situations like poor eyesight, taking increased medication and lack of proper home safety mechanisms.
Injuries from fall continue to be a big problem facing many seniors today, but it doesn't need to be debilitating. We work hard through our companion home care programs to educate our seniors and their families in how to increase their quality of life and minimize the risks to falling.
To learn more about how our adult home care services help seniors stay safe, contact our Kilmarnock, VA office today.
Download Your Free Safe & Steady Fall Prevention Resource Guide today.
Serving Kilmarnock, White Stone, Heathsville, Saluda, Urbanna, Tappahannock, Gloucester and The Surrounding Areas
Visiting Angels
NORTHERN NECK-MIDDLE PENINSULA VIRGINIA
68 S Main St
Kilmarnock, VA 22482
Phone: 804-435-2229
Gloucester 804-695-2889
Fax: 888-262-0951