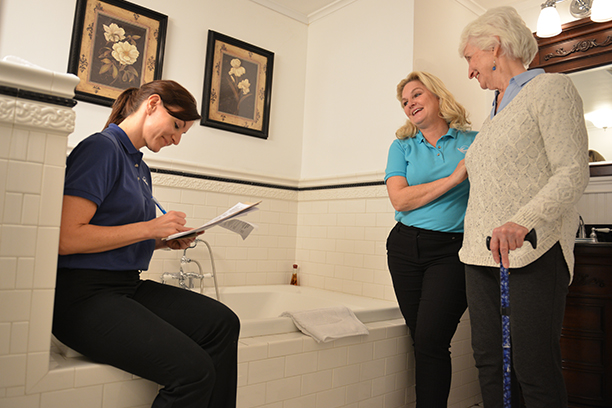 How Our Caregivers Help Seniors in Kilmarnock, VA and Surrounding Areas Recover at Home
Visiting Angels, NNMP can make a smooth transition from a hospital stay to in-home care for seniors in Kilmarnock, Gloucester, White Stone and surrounding areas in Virginia with the help of a qualified caregiver
Visiting Angels Ready-Set-Go Home program is a specialized care program designed to help seniors make a successful transition after being discharged from a hospital to resume recovery at home. The program includes a three-prong approach for reducing hospital readmissions, which present a major risk for older adults in the first few weeks after a hospital discharge.
To illustrate how serious hospital readmissions can be, it is estimated that nearly 20 percent of older adults on Medicare end up back in the hospital just 30 days after their discharge. Unfortunately, once they're re-hospitalized, older adults have a significantly lower chance of a successful recovery. This is why combating hospital readmission is so important.
We can help your family coordinate Mom or Dad's transition home, assist your loved one during this transition and provide adequate support during their first weeks of home recovery.
How Our Caregivers Help Seniors in Kilmarnock and Surrounding Areas Recover at Home
A vast number of preventable re-hospitalizations could be avoided by simply following doctors' orders. The problem is that many seniors often need extensive support from family or a professional care provider to be able to fully adhere to those orders and maximize their recovery.
At Visiting Angels, NNMP, our Ready-Set-Go Home program is geared toward providing your loved one with all the conditions that allow for a safe and quick recovery. Our personalized non-medical senior care services are provided in accordance with medical directives and in cooperation with family members.
With the Ready-Set-Go Home program, Visiting Angels utilizes a three-prong approach for reducing hospital readmissions:
At the Hospital – Our Ready-Set-Go-Home program actually starts during your loved one's hospital stay as there are a number of things we need to sort out and plan in advance. When doctors start mentioning Mom or Dad's discharge date, our caregivers will be there to guide you through the process and provide valuable information on discharge planning.
At Your Loved One's Home – Once your mom or dad is discharged, their care provider will be visiting your loved one at home to provide skilled, non-medical assistance and ensure safety and comfort during their recovery. We will also closely monitor your loved one's progress during this period and make sure that they follow recommended recovery protocols.
At the Visiting Angels Office - From our office in Kilmarnock, we will deal with logistical matters and provide additional support to your family and our Angel companion. We will be your behind-the-scenes backup team, providing medication and appointment reminders and helping you coordinate deliveries of medication, equipment or food.
Learn more about how our professional caregiver can help your loved one safely recover at home and prevent hospital readmission by calling our Kilmarnock, VA office today. Visiting Angels is here for you!
Serving Kilmarnock, White Stone, Heathsville, Saluda, Urbanna, Tappahannock, Gloucester and The Surrounding Areas
Visiting Angels
NORTHERN NECK-MIDDLE PENINSULA VIRGINIA
68 S Main St
Kilmarnock, VA 22482
Phone: (804) 435-2229
Gloucester 804-695-2889
Fax: 888-262-0951