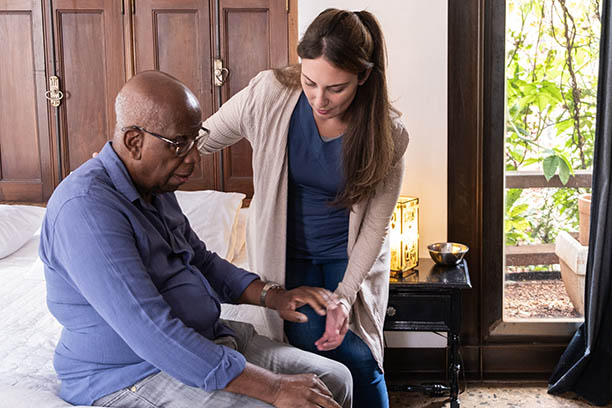 Comforting Palliative Care Services for Seniors in Kilmarnock, VA and Surrounding Areas
Visiting Angels, NNMP offers comprehensive comfort care through out Certified Palliative Care Program for seniors in White Stone, Gloucester, Kilmarnock and the surrounding areas in the Northern Neck-Middle Peninsula region of Virginia
Visiting Angels, NNMP can help alleviate discomfort your loved one may be experiencing with our Certified Palliative Care Program. Our program includes comprehensive non-medical home care services that can help improve your loved one's quality of life and allow them to stay happy, healthy and comfortable in their own home.
While the majority of people mix the terms "palliative" and "hospice," in the home care industry these are thought of as separate types of care. However, palliative and hospice care do have similarities. Both are developed with the aim to provide comfort and improve quality of life. The difference is hospice care is commonly provided to those who are nearing the end of life whereas palliative services are intended for anyone whose care should be focused on comfort and well-being, regardless of life expectancy.
Comfort Care for Seniors in Kilmarnock, Gloucester, White Stone and Surrounding Communities
We aim to improve the overall quality of life of our senior clients by focusing on their physical, emotional, social and spiritual needs. Our palliative care services go above and beyond, providing essential support and comfort regardless of the client's medical condition or life expectancy.
Experienced and highly trained caregivers from Visiting Angels, NNMP deliver a dignified, holistic approach to comfort care by providing supportive, soothing, and comforting care to seniors in need. Our mission is not only to assist your loved one during the healing process but also to rekindle hope in their hearts.
To achieve this, we focus on a wide range of care needs, including the physical, emotional, social, and spiritual needs of those we provide care for. Our caregivers typically address the following issues:
We care for your loved one's physical needs by keeping an eye on signs of common age-related difficulties and providing non-medical care and support to address any issues
We care for your loved one's emotional needs by responding to feelings of anxiety, depression, loneliness and stress with compassion and understanding
We care for your loved one's social needs by building strong bonds between caregivers and clients through meaningful companionship and conversation
We care for your loved one's spiritual needs by restoring their hope and helping them find comfort and relief in their lives
How to Get Started with Palliative Care from Visiting Angels, NNMP
If your senior loved one is in need of quality comfort care, Visiting Angels, NNMP can provide care at any level of support. Call us today. Our team members will be more than happy to answer any questions you might have about our home care services.
To schedule a non-obligation, complimentary care assessment and learn more about our special brand of in-home care services, contact our Kilmarnock, VA office today!
Serving Kilmarnock, White Stone, Heathsville, Saluda, Urbanna, Tappahannock, Gloucester and The Surrounding Areas
Visiting Angels
NORTHERN NECK-MIDDLE PENINSULA VIRGINIA
68 S Main St
Kilmarnock, VA 22482
Phone: 804-435-2229
Gloucester 804-695-2889
Fax: 888-262-0951