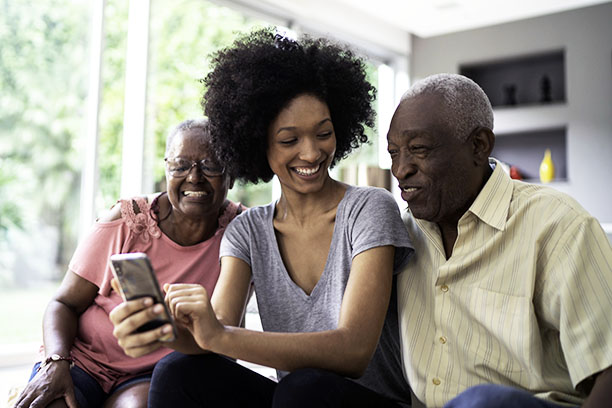 Social Care: Helping Families in Palm Beach Gardens, FL and Nearby Areas Stay Connected with Quality Senior Care
Providing care for elderly and disabled adults in Palm Beach Gardens, Jupiter, Juno Beach, West Palm Beach and nearby Florida communities does not stop in giving them only the physical care that they need. It is a holistic approach that also requires filling in other important facets of their lives.
One of the most important aspects that you also need to provide to your loved ones is their social needs. At Visiting Angels, our senior care services include promoting social wellness and helping elderly adults stay connected through digital platforms and social media through our Social Care program.
Socialization is Important for Aging Adults
Your elderly loved ones need to socialize just as much as you. But how are they to do that if they live by themselves or are confined in their beds because they have to recuperate from their condition? Not allowing them to socialize can often lead to mental distress such as anxiety, loneliness, depression and stress.
The solution is to use technology so that they will be able to reach out to their friends and family. That's why when your loved one needs professional in-home senior care, their care plan should include services that fulfill their need for social interaction and companionship.
The Benefits of Technology in Socialization
Several studies suggest the vital role of technology in improving the emotional and mental well-being of seniors. Surfing the internet can help lessen the signs and symptoms of depression among your elderly loved ones by as much as 20 percent*. People who use Facebook also show 25 percent improvement in their working memory and mental updating skills, according to a study conducted by the University of Arizona.
Moreover, those who visit social networking sites also have better emotional experiences as measured by their brain simulation, pupil dilation and brain stimulation**.
Because of this program, I was able to experience two of the greatest joys in life – becoming a grandmother and seeing my son become a new father. Skyping and Facebooking with my son and his family are now a normal part of my life. It helps me feel like I'm still an important part of their lives even though I'm miles and miles away.

— Kathryn
How Our Social Care Program Can Help Your Loved One
There are substantial benefits of using technology for socialization among the elderly. The only challenge is that older adults often seem to be uncomfortable when it comes to technology. For them, learning how to use gadgets is too complicated. This is where Visiting Angels Palm Beach Gardens can help you.
Our Social Care program is designed to make it easier for your loved ones to grasp the idea of how to use technology. Our senior caregivers can provide assistance on how to use a smartphone, send emails and open accounts on different social networking sites that they want. They will also get help with accessing library books and other online resources, streaming videos or music, and searching for things in search engines.
Using simple language, it is the goal of this program to make your loved ones comfortable when using technology so that they will achieve independence in the future.
To learn more about our Social Care program and other solutions to in-home senior care, contact Visiting Angels Palm Beach Gardens today at 561-264-0866. We're here to help!
* Washington, D.C. based Phoenix Center
** Journal Cyberpsychology, Behavior, and Social Networking
Serving Palm Beach Gardens, Palm City, Jupiter, Juno Beach, Hobe Sound, Stuart, West Palm Beach and throughout Palm Beach County and Martin County, FL
Visiting Angels
PALM BEACH GARDENS, FL
8645 N Military Trl #407
Palm Beach Gardens, FL 33410
Phone: 561-328-7611
Fax: 561-328-7607