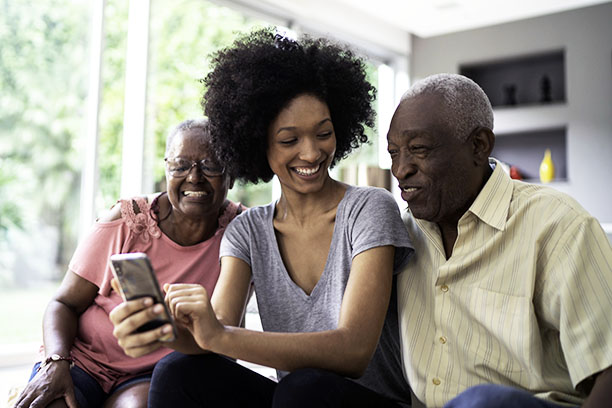 How Visiting Angels Helps Seniors in Annapolis, MD Stay Connected
Here at Visiting Angels Annapolis, we approach in-home care services for seniors in Annapolis, Glen Burnie, Millersville, Pasadena, Crownsville, Arnold and surrounding areas in Northern Anne Arundel County, MD, with a holistic mindset. We not only believe in meeting the needs of our clients physically, we also believe that providing support for their social well-being is necessary for them to have a positive experience with aging in place.
Our holistic approach not only focuses on the client's physical well-being, but their social and emotional needs, as well. As such, we believe that the client should stay connected to their social circle and family via modern technology with the help of their caregiver — hence our Social Care program.
How Can Visiting Angels Annapolis Help Seniors in Anne Arundel County Stay Connected with Loved Ones?
At Visiting Angels Annapolis, we understand that seniors who choose to age in place may have trouble with fulfilling their need for social interaction. Age-related mobility and cognitive issues can make some seniors choose to spend time at home, which puts them at risk for social isolation. Not having the option of spending quality time with a loved one can lower their overall quality of life.
Fortunately, there are many ways for seniors to stay connected with people they care about through digital tools and platforms. However, seniors may have trouble with using social media, texting, and other modern forms of communication to engage with friends and family. Memory issues can make seniors forget how to use certain tools, while visual impairments or issues with fine motor skills can make it hard for them to use touchscreens and keyboards.
With the Social Care program from Visiting Angels Annapolis, our caregivers can help your loved one easily use these tools and platforms so they can spend quality time with the people they care about without needing to leave the house.
The following in-home care services are part of the Social Care program from Visiting Angels Annapolis:
We can teach our clients how to use FaceTime or Skype. Maybe send e-mails or mobile text messages—no matter the type of technology they have.
We will teach them how to use a search engine, how to look for information that they need, how to shop online, and even how to create online profiles and logging in.
We will also teach them about opening an account on Facebook, and how to maintain one and use one in order to connect with families and friends.
While elderly companion care is part of our in-home care services, we also want to help clients stay in touch with their friends, family and neighbors, and that's what our Social Care program can accomplish.
Studies on the Elderly and Social Engagement
There are so many ways that modern communication tools can benefit seniors, especially those who have trouble with going out and physically spending time with friends and family.
Here are some recent studies that showcase these benefits:
In a study in 2008 conducted by Lee et al., it was shown that opportunities for social engagement and participation by the elderly are a crucial component in promoting their well-being and good health.
Improving the working memory of the older adult is possible by just helping them use Facebook. In fact, in a study by the University of Arizona showed a 25 percent improvement of mental updating skills of seniors who use Facebook.
As much as a 20 percent reduction of depression in older adults just by surfing the internet.*
As measured by brain stimulation, breathing rates and pupil dilation, a positive experience was felt by seniors who visit Facebook and/or other social networking sites.**
To learn more about how our in-home care services can help your loved one stay connected, contact our Millersville, MD, office at 410-505-5141.
* Washington, D.C. based Phoenix Center
** Journal Cyberpsychology, Behavior, and Social Networking
Serving Northern Anne Arundel County in Maryland, including Annapolis, Glen Burnie, Millersville, Pasadena, Crownsville, Arnold and Severna Park
Visiting Angels
ANNAPOLIS, MD
8338 Veterans Hwy #103A
Millersville, MD 21108
Phone: 410-505-5141
Fax: 410-549-2909