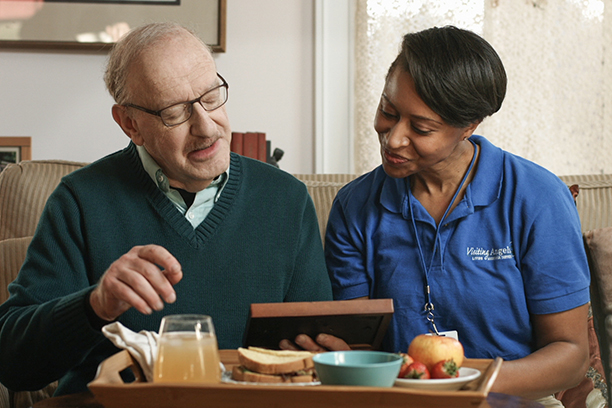 Incidental Transportation for Seniors in and Around Annapolis, MD
While there are several tasks that may be too burdensome for family caregivers, transportation is often regarded as one of the most difficult activities. It is very hard to find the time to drive your loved one around town after work, caregiving or other responsibilities. Moreover, if your loved one has mobility issues or is disabled, making sure they are regularly engaged in social activities can be challenging to say the least.
If you are simply unable to find the time to drive your loved one wherever they need or wish to go, Visiting Angels Annapolis can help. When you choose us, one of our dedicated personal care assistants can provide your parent with incidental transportation to doctor's appointments, family gatherings, social outings or local events.
Call 410-505-5141 to learn more about our incidental transportation services!
The Benefits of Incidental Transportation Services for Annapolis-Area Seniors
If your loved one lives alone and is dependent on you and other family members for transportation, now may be the time to consider senior care from Visiting Angels Annapolis. Our friendly and experienced personal care assistants can drive your loved one anywhere in Annapolis, Glen Burnie, Millersville, Pasadena, Crownsville, Arnold and the surrounding areas in Northern Anne Arundel County, providing them with more independence and freedom in tailoring their own schedule.
It is important to note that our incidental transportation service is not the same as a taxi, so we can help your loved one with more than just getting to their destination. Namely, our personal care assistants will also help your loved one get ready for their outing, assisting them with dressing and getting prepared for the trip. The caregiver can keep your loved one company as they perform activities or run errands, take notes during medical appointments and keep you informed about their well-being.
When your loved one returns home, one of our caregivers can help them take their coat off, keep them company until you or a family care provider arrives and make sure they are safe and comfortable at home.
Other Ways Our Personal Care Assistants Help Seniors in Anne Arundel County
Incidental transportation is just one out of many home care services we offer in Annapolis and throughout Northern Anne Arundel County. Our caregivers can additionally help your loved one with meal preparation, light housekeeping, medication reminders and much more.
While you can help them around the house or call a taxi when they need to go outside, our incidental transportation services are much more convenient, personal and safe. With the help of personal care assistants from Visiting Angels Annapolis, your parent can enjoy increased independence as they age in place.
To learn more about incidental transportation from Visiting Angels Annapolis and how we can help your loved one, please call our office in Millersville, MD, today at 410-505-5141!
Serving Northern Anne Arundel County in Maryland, including Annapolis, Glen Burnie, Millersville, Pasadena, Crownsville, Arnold and Severna Park
Visiting Angels
ANNAPOLIS, MD
8338 Veterans Hwy #103A
Millersville, MD 21108
Phone: 410-505-5141
Fax: 410-549-2909