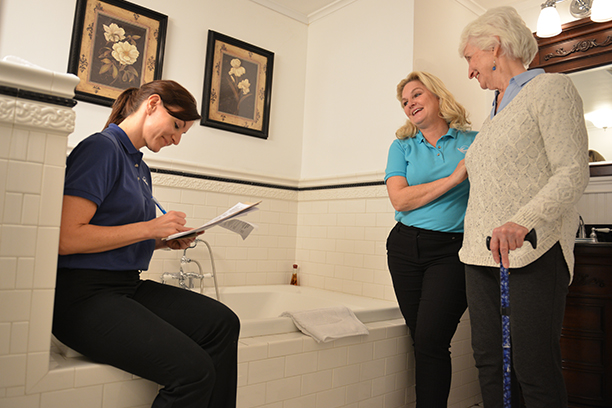 Meal Planning and Preparation for Seniors in and Around Annapolis, MD
Proper nutrition is one of the pillars of good health in senior years, so it is important to make sure your loved one is eating healthy, well-balanced, and nutritious meals. If your loved one is malnourished, rapidly gaining or losing weight, eating too much junk food, or consuming food they should avoid, Visiting Angels Annapolis can help.
Our home care options for seniors in Annapolis, Glen Burnie, Millersville, Pasadena, Crownsville, Arnold, and throughout Northern Anne Arundel County, MD, include meal planning and preparation, two activities that are crucial for independent living for elderly and disabled adults. Our caregivers have been helping seniors eat right since 2002.
Call 410-505-5141 today to learn how Visiting Angels Annapolis can help your loved one!
How Home Care Options for Seniors from Visiting Angels Annapolis Can Help Seniors Eat Right
As important as it is for seniors to eat healthy, age-related difficulties can make this a challenge for some. Mobility issues like MS and Parkinson's can make it hard to use cookware and utensils in order to prepare meals, while cognitive issues can make seniors prone to forgetting meals. In addition, since many seniors may favor dishes that are familiar and bring them comfort in later years, they may choose to eat foods that are unhealthy.
That's why when providing home care options for seniors, we make sure to focus on planning and preparing meals that your loved one will enjoy eating and will be nutritious and boost their well-being.
Meal Planning
Our caregivers first get to know your loved one in order to gain a better insight into their dietary regimen, limitations, and preferences. Then they can proceed to plan weekly menus that are in accordance with their nutritional needs.
Assistance with Meal Preparation
If your loved one enjoys cooking, they can be involved in the recipe selection process. This can also be a fun activity and a great opportunity for bonding. Again, if your parent likes to spend time in the kitchen, they can also participate in meal prep – but if they do not wish to chop, dice, and slice, our caregivers will do it on their own.
Home care options for seniors from Visiting Angels Annapolis also include providing meaningful companionship. Our caregivers can additionally keep your loved one company during meal time, transforming it from a routine daily activity into a pleasant social activity.
Naturally, our caregivers will wash the dishes and clean the kitchen after cooking, leaving it in a spotless condition. This is very important because a clean, well-organized kitchen is also a safe kitchen.
Help with Grocery Shopping
In addition to these meal-prepping tasks, our home care options for seniors also include helping clients with shopping for groceries. If your loved one is in the mood but have trouble with driving, our caregivers can provide transportation. We encourage this because grocery shopping presents an opportunity for physical and social activity. On the other hand, if your loved one has other plans, our caregivers can shop on their own and deliver the groceries to your parent's home. Our care providers can use any provided coupons in order to spend less money on shopping. In addition, we can pick up any online grocery orders your loved one has placed so they can stay safe in their own home.
With home care options for seniors from Visiting Angels Annapolis, your loved one can truly enjoy a diet that is good for them and reap all the benefits that come with proper nutrition.
Get Started with Meal Preparation from Visiting Angels Annapolis
If meal planning and preparation from Visiting Angels Annapolis sounds like the right solution for your senior loved one, you can get started by scheduling a free in-home consultation.
We are happy to answer all your questions and schedule your free in-home consultation to discuss your loved one's care plan.
Contact our Millersville, MD office at 410-505-5141 to learn more about our meal planning and preparation services and other home care options for seniors in Northern Anne Arundel County today!
Serving Northern Anne Arundel County in Maryland, including Annapolis, Glen Burnie, Millersville, Pasadena, Crownsville, Arnold and Severna Park
Visiting Angels
ANNAPOLIS, MD
8338 Veterans Hwy #103A
Millersville, MD 21108
Phone: 410-505-5141
Fax: 410-549-2909