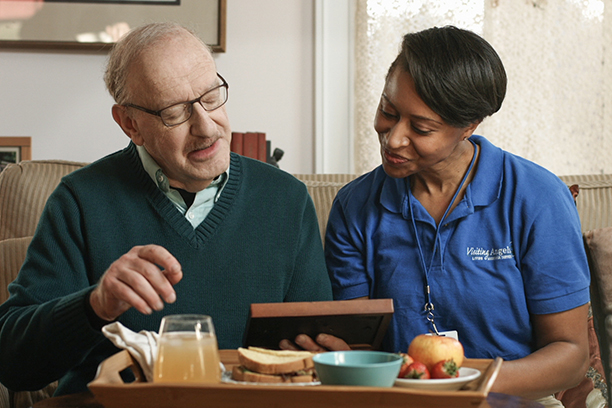 Our Home Care Specialists Can Help Prepare Meals in Bangor, ME and the Surrounding Area
Visiting Angels Mid Maine's Home Care Specialists Prepare Healthy Meals for Seniors in Bangor, Brewer, Lewiston, and Nearby Cities
Our home care specialists understand the importance of eating well, even if we do not always follow nutritional guidelines. But as we age, it becomes increasingly vital to be mindful of maintaining a good diet and having continual access to fresh produce and healthy meals.
There are multiple reasons seniors should be conscious of what they put into their bodies:
Medications may require that certain foods be taken out of their diet entirely

Health conditions can decrease when assisted by diets that are adjusted for individual medical needs

A healthy diet can relieve stress on major physical systems like circulation, digestion, and nervous system

Changes in appetite or tastes can indicate new health concerns or side effects that their doctor should track
We Work with Medical Providers to Create a Meal Plan for Your Loved One's Dietary Needs
At Visiting Angels Mid Maine, our home care specialists will work with clients and their medical providers to understand your loved one's unique dietary needs. And beyond that, we will also work with seniors and their families to understand their preferences and habits regarding food, meal preparation, and food storage. Our goal is to design a meal planning and preparation strategy supporting both their health and their daily needs.
Seniors who live on their own or have mobility issues may have additional challenges in accessing fresh produce. It is important to ensure that they have access to fresh foods and incorporate fruits and vegetables into their daily diet. Our caregivers will help seniors keep fresh produce stocked in their fridges by either assisting them with transportation and mobility services or going grocery shopping on their behalf.
Keeping Seniors Healthy at Home
Cooking can also be a challenge for some seniors as physical abilities and mobility change throughout their golden years. Home care specialists from Visiting Angels Mid Maine can assist with all kitchen tasks, from chopping and cutting to cleaning and storage. Our meal preparation services include:
Planning healthy and nutritious meals based on your loved one's health needs

Going grocery shopping for ingredients

Preparing your loved one's favorite meals

Making make-ahead meals that they can have at a later date

Cleaning up the kitchen after cooking

Ensuring your loved one is eating or assisting them with eating

Medication and hydration reminders
Contact Visiting Angels Mid Maine
If you have an elderly loved one in Bangor, Lewiston, Brewer, or the surrounding area struggling to keep up with a healthy diet while living alone, our caregivers can help. Call Visiting Angels Mid Maine today to learn more about how our home care specialists can help your loved one live an independent life from the comfort of home.
Serving Bangor, Brewer, Hampden, Orono, Old Town, and the Surrounding Area
Visiting Angels
MID MAINE
444 Stillwater Ave, Suite 101
Bangor, ME 04401
Phone: 207-605-8288
Fax: 207-573-1863