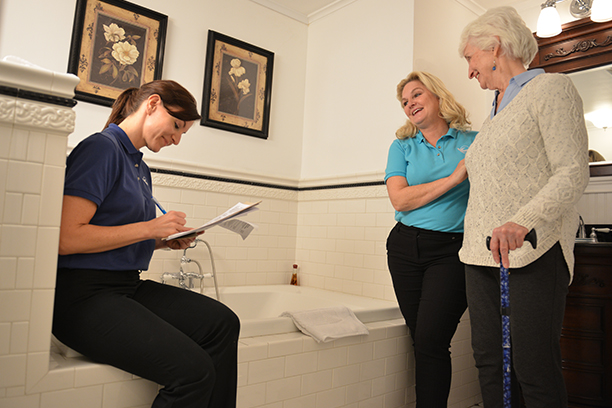 Home Care Providers Throughout Bangor, ME, and Neighboring Communities
Visiting Angels Mid Maine's Home Care Providers Offer Essential Care to Seniors in Bangor, Lewiston, Brewer, and Neighboring Cities
Each and every day we strive to provide excellent care for our clients. At Visiting Angels Mid Maine, we are proud of our compassionate caregivers and the things that we have been able to accomplish together. But our day is never over because we're always looking for new ways to get better, expand our team, and grow. Our home care providers understand the importance of treating our clients with dignity and respect. It's important to help our clients maintain as much of their independence as they possibly can. We know that our clients prefer to be at home, then being transferred to a care facility. We understand that, and we'll do all that we can to help you stay there for as long as possible.
All-Encompassing Care
We believe that just meeting the physical needs of our clients just is not enough. They yearn to meet their mental needs as well. We're all about providing care to the whole person. Often, we hear that our care professionals become like family to our clients. We are very thankful that we are trusted to come into homes across the nation and provide one-on-one care to thousands of different families.
The Leading Senior Care Agency in the Area
We are very proud of our reputation as the areas leading network of private duty care services. Every day we work to maintain that reputation to provide the quality of care that we'd give to our own family members. We will work with you and your loved one to create a personalized care plan that ensures your loved one's needs will be met. We want to exceed all of your care expectations. Also, we will work with you to find home care providers that are an ideal fit for your family member.
Our specialized care is designed to fit a variety of different needs. Also, due to our knowledgeable home care providers and staff, we are able to provide a wide variety of one-on-one home services. This includes private duty care, daily living activities, and respite care. At Visiting Angels Mid Maine, we strive to provide the best possible experience for your loved one, so they can enjoy a carefree and joyful life.
Learn More About Our Essential Care Today
If you have an aging loved one who is struggling to maintain their independence and safety at home, please contact Visiting Angels Mid Maine at 207-605-8288 today. We offer a wide range of essential care services in Bangor, Lewiston, Brewer, and the surrounding area. We look forward to speaking with you.
Serving Bangor, Brewer, Hampden, Orono, Old Town, and the Surrounding Area
Visiting Angels Mid Maine
444 Stillwater Ave,
Bangor, ME 04401
Phone: 207-605-8288