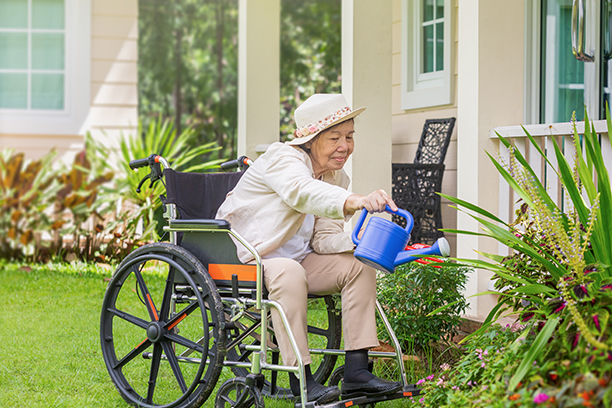 Visiting Angels Mid Maine's COVID-19 Resources for Families in Bangor, ME, and Nearby Areas
Professional Tennis player Arthur Ashe once said, "True heroism is remarkably sober and very undramatic. It is not the urge to surpass all others at whatever cost, but the urge to serve others at whatever the cost." This quote applies to in-home caregivers daily but is even more fitting as you continue to serve our clients as we navigate the ever-changing tides of the COVID-19 epidemic.

Without even knowing it, when you get ready for your shift, you put on your invisible cape before you head out the door. During these uncertain times, you bring something to our clients. You bring comfort, support, and stability. The sight of a familiar face, someone they can trust, their voice is heard, and the comfort of knowing that their needs will be met can make an unmeasurable impact on someone's day.
While many people have changed their routines, yours has stayed the same. You get up every day, go out and give your all to our clients. While so many have turned inward and retreated, you continue to go out into the world and navigate all the new obstacles that pop up. You have continued to stay dedicated to your clients and their families. While you may see yourself as just "doing your job" or "doing what you have always done," our clients and their families see you as heroes, running headfirst towards something that many are running away from.
Thank you for showing up every day and being our heroes!
COVID-19 Information for Families in Bangor, ME, and Surrounding Areas
The team at Visiting Angels Mid Maine understands how stressful and uncertain times are for clients and families right now. Each Visiting Angels location is committed to providing quality home care services in a safe environment. Visiting Angels continues to remain informed regarding the changing state of the COVID-19 virus and the spread of the virus in our communities and continues to implement infection control and protective measures in accordance with guidance from state and local health officials.
How to Keep Clients Safe During COVID-19
Visiting Angels Mid Maine owner, Alecia Pineo, offers some very valuable advice to in-home caregivers to keep themselves and their clients safe during this pandemic. Please take a moment to watch this video, as it can help anyone during this time! If you have any questions or would like to give us feedback, please give our office a call!

Kind words from Senator Marco Rubio!
Serving Bangor, Brewer, Hampden, Orono, Old Town, and the Surrounding Area
Visiting Angels
MID MAINE
444 Stillwater Ave, Suite 101
Bangor, ME 04401
Phone: 207-573-1861
Fax: 207-573-1863