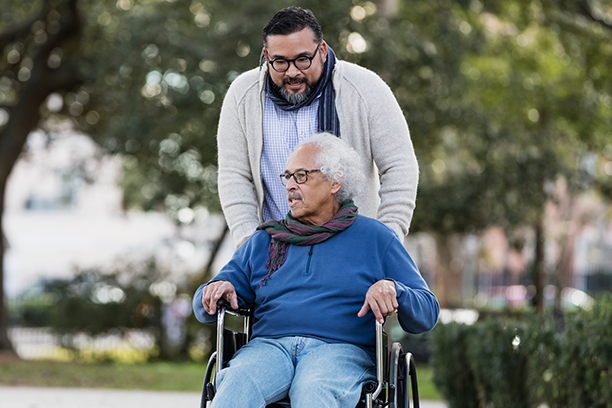 Do You Think Your Aging Loved One Is in Need of Elder Services in Bangor, ME, or the Surrounding Area?
Visiting Angels Mid Maine Offers Elder Services in Bangor, Brewer, Lewiston, and Nearby Cities
As more and more seniors in Bangor, ME, and the surrounding area choose to age in place to enjoy their golden years in the comfort of their own home and surroundings of their choice, in home senior care has become a popular resource for many families. Receiving elder services from an agency like Visiting Angels Mid Maine can help your loved one remain in their own home for longer, while giving you and your family the peace of mind of knowing that they are safe and healthy every day.
When a Senior Needs Elder Care
Individuals age at their own pace and changes in physical, mental, social, and emotional health are unique to everyone. The important things to remember is to trust your gut, be mindful of any changes, and report anything you may notice to your loved one's doctor for advice. You should look out for signs such as:
Appearance: Changes in your elderly loved one's appearance, clothing, or grooming.
Home Environment: The worsening of their home environment and the cleanliness of rooms.
Diet: No appetite, daily meals do not vary, or lack of fresh foods.
Personality & Mood Swings: Personality changes like increased anxiety, fear, or stress.

Physical Setbacks:

Inability to keep up with yard work or home maintenance work.

Unusual Activity: Withdrawal from their favorite activities.
Injuries: Bruises, cuts, and bumps that cannot be explained.
Cognitive Issues: Changes in memory or attention span.
Antisocial Tendencies: Decreased socialization or unwillingness to engage with others.
Many of these signs are also signals of declining health and well-being overall. When you see an aging loved one struggling to care for themselves or their home, elder services can help them stay safe, healthy, and comfortable at home.
What to Do When Your Elderly Loved One Cannot Care for Themselves
Whenever you notice changes in the well-being of a loved one, you should first talk to your loved one about it and then discuss your concerns with their doctor. Your loved one may be able to offer up explanations or name tasks that they particularly need help with. Their doctor may want to consider medication side effects or interactions or changes in physical health. Visiting Angels Mid Maine's elder services can walk you through everything and offer up a care plan that is customized for the unique needs of your loved one.
Contact Visiting Angels Mid Maine Today
If you are concerned about an aging loved one who lives alone, elder services from Visiting Angels Mid Maine can make a difference. Call our agency today at 207-605-8288 to learn more about our companionship care and all we do to help seniors in Bangor, Lewiston, Brewer, and the surrounding area make the most of every day.


Serving Bangor, Brewer, Hampden, Orono, Old Town, and the Surrounding Area
Visiting Angels
MID MAINE
444 Stillwater Ave, Suite 101
Bangor, ME 04401
Phone: 207-573-1861
Fax: 207-573-1863