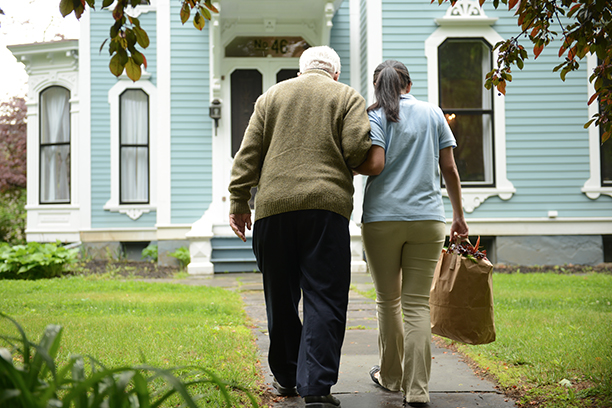 How You Can Get the Most Out of Your Free In Home Senior Care Consultation in Greater Bangor ME
Visiting Angels Mid Maine Offers A Guide on How to Best Prepare for Your Free, In Home Senior Care Consultation in Bangor, Lewiston, Brewer, or Nearby City
When you consider in home senior care for your elderly loved one, it is normal to have many questions. You may be wondering about scheduling, the cost of care, what services are offered, the qualifications of the caregivers, or even if home care is the best option for your loved one. With so many different care options, it can be difficult to find the right fit for your family.
At Visiting Angels Mid Maine, we can help by offering you a free, in-home consultation. With this assessment, one of our professional care coordinators will come to your loved one's home and answer any questions you may have about our care.
Preparing for a Consultation
The most important thing you can do before a consultation is to make sure your loved one is aware that you are thinking about hiring an in home senior care agency. This can be an emotional topic for your loved one, and they may even object to your decision. If this is the case, listen carefully to your loved one's reasoning while letting them know that their safety is your main concern.
During the Consultation
When a care coordinator comes to your loved one's home, they will discuss care as well as ask about the health needs of your loved one. While talking about personal care may be embarrassing for your loved one, our care coordinators know how to put your loved one at ease. Care coordinators may also discuss:
Emotional care – your loved one's social needs, as well as the activities and hobbies they enjoy.
Personal care – if your loved one needs assistance with activities such as grooming, bathing, toileting, dressing, fall prevention, or mobility.
Homemaking care – if your loved one needs help with housekeeping, meal preparation, grocery shopping, or laundry.
Memory care – if your loved one needs reminders to take medication, eat, drink, or engage in physical activities.
Other care requests – if your loved one has any health conditions that have not been addressed or dietary restrictions. Caregivers can also help your loved one with transportation and running errands.
Our care coordinators will also discuss the times when your loved one will need assistance and when care can be scheduled, as well as how caregivers will enter your loved one's home. They will also make sure you know how best to communicate with our agency.
Post-Consultation
After a in home senior care consultation, your care coordinator will develop a care plan based on the information you and your loved one provided. Care will be designed to fit your loved one's unique and specific needs. Your loved one will then be matched with a caregiver who can accommodate all your loved one's care needs.
In home senior care services can usually begin two days after the consultation, however, in some rare situations, services can begin the same day. If your loved one lives far away from you, you can still participate in a consultation over the phone.
Learn More
If you have been considering in home senior care in Bangor, Lewiston, Brewer, or the surrounding area, give our agency a call at 207-605-8288 and schedule your free, in-home consultation today.
Serving Bangor, Brewer, Hampden, Orono, Old Town, and the Surrounding Area
Visiting Angels
MID MAINE
444 Stillwater Ave, Suite 101
Bangor, ME 04401
Phone: 207-573-1861
Fax: 207-573-1863