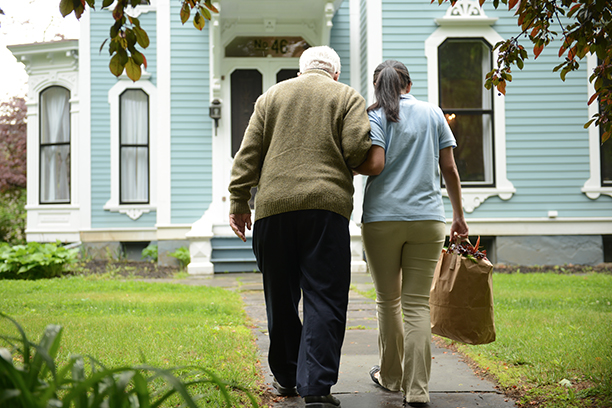 Our Experience with Senior Home Care in Bangor, ME, and Nearby Cities
At Visiting Angels Mid Maine, we screen our senior home care providers in Bangor, ME, and the surrounding area to make sure that they are as passionate about providing care to our loved ones as they should be. Our extensive screening process is designed to help you breathe easier. Once you trust Visiting Angels Mid Maine, we do all that we can to provide excellent one-on-one care from start to finish. Step one of that process is recruiting the best caregivers that we possibly can.
Visiting Angels Mid Maine Hires Only the Most Experienced Senior Home Care Providers Throughout Bangor, ME, and Surrounding Areas
You deserve a care provider that's knowledgeable in their field. They should be able to provide expert advice while they're on the clock. Through our vetting process, we have the best community of care providers in the senior care field.
We do not rely on "on-the-job training." Instead, we find senior home care providers who have many years of experience. We tend to recruit care providers who have either a strong level of experience in the senior care industry or have participated in healthcare certification training programs. Our caregivers have knowledge within the care industry. For example, some have the knowledge and skills to provide assistance with personal care and hygiene needs. We would only put an unskilled caregiver in that position if there's no personal care or hygiene care that's needed. We would never choose to put anyone in a situation where they wouldn't know the work that they're partaking in.
Our Hiring Process
Before hiring, we encourage a variety of different vetting processes. Throughout all of our offices, we receive resources from many different credible sources. These often include previous clients, agencies, and certification training schools. We also recommend that our offices conduct multiple interviews with possible candidates before considering them for employment.
As a result, we've created a passionate and skilled community of private senior care aides that make up the heart of Visiting Angels Mid Maine. They are dedicated to providing exceptional assistance to our clients and will do all that they can to gift them a happy and fulfilled life. We hope to work with you in a variety of ways to make sure that you bring the right caregiver into your home.
Learn More About Our Essential Care Services
To learn more about our senior care services or to get started with an in-home caregiver, contact Visiting Angels Mid Maine at 207-605-8288 today! Out senior home care providers are ready to schedule your free in-home consultation.
We look forward to assisting you and your family!


Serving Bangor, Brewer, Hampden, Orono, Old Town, and the Surrounding Area
Visiting Angels
MID MAINE
444 Stillwater Ave, Suite 101
Bangor, ME 04401
Phone: 207-573-1861
Fax: 207-573-1863