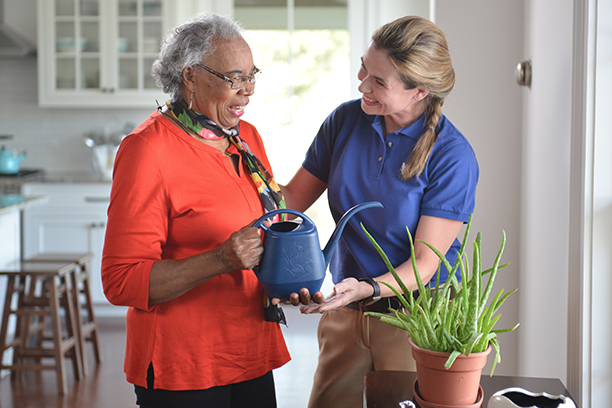 Receive 24/7 Companion Home Care in Bangor, ME, or the Surrounding Area with Constant Companion
Constant Companion Allows Seniors to Remain Independent at Home with 24/7 Companion Home Care Assistance in Bangor, Brewer, Hampden, Orono, Topsham, Auburn, Lewiston, and Nearby Cities
If you are helping to meet the daily needs of an aging loved one, you might have started with the most obvious needs—providing rides to a doctor's appointment or bringing over a home-cooked meal. But when you're not there, how can you be sure your loved one has everything they need? The Constant Companion service from Visiting Angels Mid Maine is designed to provide you and your family with complete peace of mind, and to make sure that your aging loved one can remain independent and comfortable at home for longer.
Why Is In-Home Care Needed?
At Visiting Angels Mid Maine, we believe that every senior should be able to age independently and live in the place they wish to call home. More and more seniors are choosing to receive elder care at home, prioritizing their connections with family, friends, and community. With the number of retirees in our country increasing every day, more and more family members are helping their loved ones attain that goal. Companion home care has been proven to help seniors from all walks of life access their best quality of life.
What Is Constant Companion?
Our Constant Companion service is one more way we can help your loved one remain safe and healthy at home. With Alexa for Caregiving, your loved one can engage with games, music, audio books and find enrichment while alone at home. They can also make calls or send messages, enabling the constant ability to communicate from anywhere in the home.
The Constant Companion Call for Help feature offers backup for family caregivers: a member of our Constant Companion team will always be available for an urgent response. On average, our response rate is three times faster than other panic button services. With a digital voice assistant and Smart Home capabilities, your loved one will never be without a helping hand. There is no replacement for companion home care, but technology can help us make sure that there is always a monitoring and communication service available to your loved one.
Learn More About Constant Companion
If you are concerned about the long-term well-being of a loved one who lives at home in Bangor, Auburn, Brewer, or the surrounding area, Visiting Angels Mid Maine offers the companion home care your loved one needs with the Constant Companion technology that can provide 24/7/365 coverage. Call us today at 207-605-8288 to learn more.
Serving Bangor, Brewer, Hampden, Orono, Old Town, and the Surrounding Area
Visiting Angels
MID MAINE
444 Stillwater Ave, Suite 101
Bangor, ME 04401
Phone: 207-573-1861
Fax: 207-573-1863