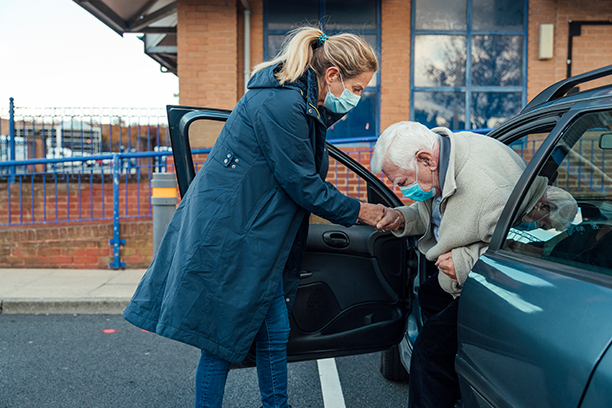 Visiting Angels Provides Respite Care Services in the Greater Bangor, ME Areas
Visiting Angels Mid Maine's Respite Care Services Allows Family Caregivers in Bangor, and Communities Nearby to Take a Breather
Taking care of your sick loved one at home is the best way to show your love for them. It takes dedication and commitment to take care of your loved one at home and they need your constant attention and focus. But what if you need a break? Fortunately, our respite care services can fill in for you in case you need help.
You Need Your Rest Too
Being the family caregiver is a 24-7 job. But to provide the best respite care services to your loved one, it is important that you also take care of yourself. It is good to focus your attention on your loved one but what is not right is when you start to neglect other facets of your life and eventually burn out. Asking for a breather is not a bad thing at all. After all, we are all humans and we don't run like clockwork at all times. So, if you want to stop and smell the roses but you want your loved one to be in good hands, Visiting Angels Mid Maine can lend you a helping hand.
How They Can Help
Professional care services can provide you with the assistance that you need. We can visit your loved one several times a week to provide them with services such as assisted living. Our care services can help your loved ones perform tasks such as bathing, dressing, and eating. We can also provide transfer services in case your loved ones need to visit their doctors. If your loved one needs help around the house, our caregivers are well-trained to perform chores such as shopping and preparing healthy meals for your loved ones. But more importantly, our care services can provide genuine companions while you are out running some errands or just resting in the other room.
How to Get Help
Once you have decided to get private home care from Visiting Angels Mid Maine for your loved one, the most important thing that you need to do is to get in touch with a caregiver. At Visiting Angels Mid Maine, we will match your loved ones with a compassionate caregiver. Our caregivers can work with your schedule and are very flexible, so they can work any time of the day depending on the needs of your loved ones and the entire family.
Contact Visiting Angels Mid Maine at 207-605-8288 to learn more about our respite care services.
Serving Bangor, Brewer, Hampden, Orono, Old Town, and the Surrounding Area
Visiting Angels
MID MAINE
444 Stillwater Ave,
Bangor, ME 04401
Phone: 207-605-8288
Fax: 207-573-1863