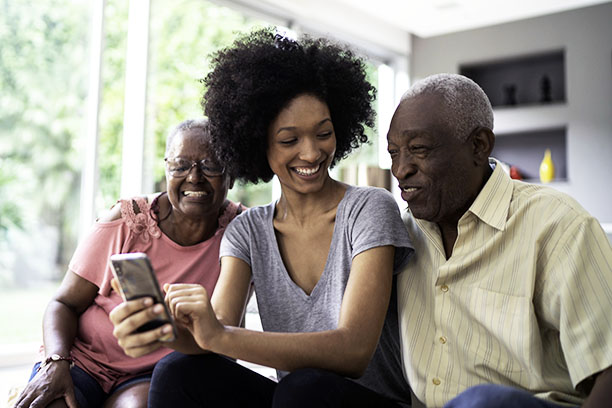 Learn About the Social Care Program from Visiting Angels Monroe
At Visiting Angels, our non-medical home care includes Social Care to help seniors stay in touch with their loved ones in Monroe, Grosse Ile, Temperance and Rockwood, MI
At Visiting Angels, we take a holistic approach to senior care in Monroe, MI. This means that we think about your loved one's emotional and social well-being in addition to their physical health. A senior has to be happy both inside and outside of their home. Unfortunately, many older adults are left out of many social occasions because they do not understand how to use modern modes of communication.
If you are looking for non-medical home care in Monroe, MI that will meet your loved one's needs completely, the Social Care program from Visiting Angels Monroe can help them stay socially active and improve their quality of life.
The Importance of Social Care and Other Forms of Non-Medical Home Care in Monroe, MI
Over the years, we realized that there is a need for the development of a social care program that will help bring seniors into the 21st century when it comes to the ways they communicate. Through the Social Care program, we help older adults communicate with their loved ones the way everyone else does these days, through social media platforms and apps lie Facebook, Skype and FaceTime.
Many studies have shown that social media use can significantly help improve a senior's quality of life.
Let's check out a few:
Did you know that research shows that using the internet can help seniors with depression reduce symptoms by as much as 20 percent?*
Researchers at the University of Arizona have shown that those older adults who user Facebook on a regular basis can improve their mental "updating" skills by as much as 25 percent.
Furthermore, seniors actually like using social media. A study that observed seniors using Facebook showed they had a positive emotional experience when measured by breathing rates, brain stimulation and pupil dilation.**
With our Social Care program, we can teach your senior parent to use a cell phone, send text messages and emails and use chatting platforms and apps like Skype and FaceTime. We can also help them use the internet for entertainment. This can include things like helping them learn how search engines operate or teach them how to shop online.
With our Social Care program, we aim to help seniors continue to stay in touch with those they care about without having to worry about age-related difficulties impacting their ability to socialize.
To learn more about our Social Care program and other forms of non-medical home care in Monroe, MI, contact our office today!
* Washington, D.C. based Phoenix Center
** Journal Cyberpsychology, Behavior, and Social Networking
Serving Monroe County Michigan, including Temperance, Grosse Ile, Flat Rock, and Toledo, OH
Visiting Angels
MONROE, MI
15649 S. Telegraph Rd
Monroe, MI 48161
Phone: 734-344-7331