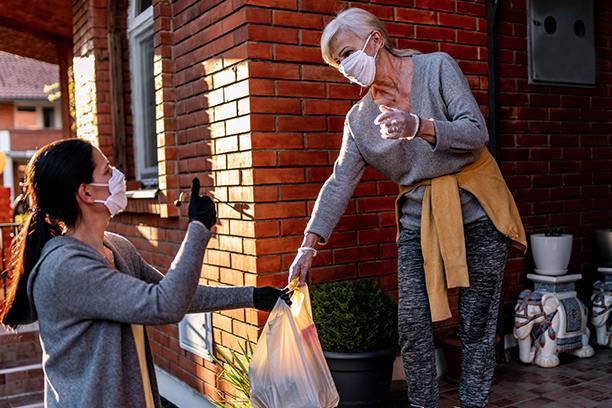 Comfort Care for Alzheimer's Disease in South Dayton, Centerville, OH and Nearby Communities
Visiting Angels Offers Quality Comfort Care for Seniors with Alzheimer's Disease in Centerville, Dayton, Xenia, Springboro, Miamisburg, and Surrounding Areas
In America, more than 5 million people are living with Alzheimer's disease, according to the Alzheimer's Foundation of America. A progressive, fatal degenerative brain disorder, Alzheimer's causes a slow decline in memory, thinking, and reasoning skills. It can be overwhelming – even frightening – to get an Alzheimer's diagnosis. However, there are many options, like in-home comfort care and steps you can take to make this process easier for loved ones and family members.
There is no cure for the condition, but several therapies and treatments can improve life quality by lessening symptoms and delaying their onset. If you believe someone you care about may have signs of Alzheimer's disease, it is imperative to be proactive and get your loved one to a doctor for an assessment. The sooner you act, the faster a comfort care program can be implemented.
10 Warning Signs of Alzheimer's
Memory loss that disrupts daily life

Challenges in planning or solving problems

Difficulty completing familiar tasks at home or work

Confusion about time and place

Trouble understanding visual images and spatial relationships

New problems with words in speaking or writing

Misplacing things and losing the ability to retrace steps

Decreased or poor judgment when making decisions

Withdrawal from work or social activities

Changes in mood or personality
Should you or a loved one display any of these signs, it's essential to get to a doctor immediately for an evaluation. While certain factors are the mere result of aging, don't mistake Alzheimer's symptoms as the standard progress of time – there's a difference between basic forgetfulness and memory loss.
Care for Alzheimer's
In the event of a diagnosis, being proactive goes a long way to ensure care for your loved one. Certain decisions will need to be made, so you can better manage the disease. Here are a few basic steps to help if you or someone you love is diagnosed with Alzheimer's:
Educate yourself: learn as much as you can online and by talking to people. The Alzheimer's Foundation of America and the Alzheimer's Association are two great resources.

Decide what will happen in the future right now: address financial, legal, and long-term comfort care planning issues. As well, talk to your loved one about end-of-life care wishes.

Use cognitive stimulation: when possible, employ these techniques to provide a positive environment for your loved one – listening to music, word puzzles, and memory games are all good practices.

Arrange for respite care: respite care is essential for patients living with Alzheimer's. But for the family members who are primary caregivers, a respite care program is equally imperative to ease the stress and exhaustion of caring for a loved one with Alzheimer's – that is why Visiting Angels of South Dayton offers comfort care and respite care programs for all of our clients.

Build a support system: remember, you are not alone – so turn to your support system in times of need when you're feeling overwhelmed and emotionally exhausted. At Visiting Angels, we are here to help you and your family, so don't hesitate to call us when care is needed.
Learn More Today
For more information on our Alzheimer's services and dementia care, call Visiting Angels of South Dayton today to speak with one of our staff members. They will be happy to schedule a free, in-home assessment with one of our care coordinators to get you started with our comfort care program for seniors with Alzheimer's Disease. Click one of the buttons below to get started.
Serving Centerville, Xenia, Springboro, Miamisburg and the surrounding Dayton Communities
Visiting Angels SOUTH DAYTON, OH
4 W Franklin St
Centerville, OH 45459
Phone: (937) 813-6568