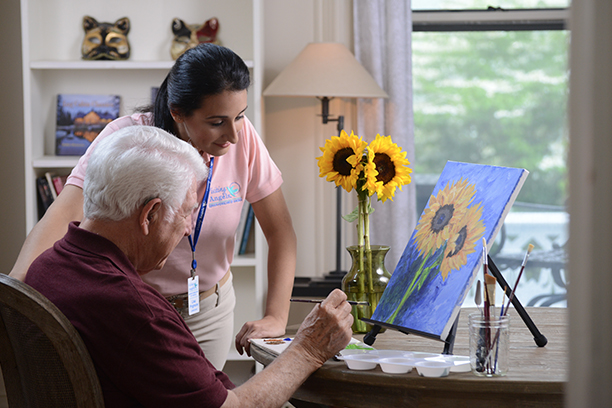 How You Can Get the Most Out of Your Complimentary Home Care Consultation in Centerville, South Dayton, OH, and Nearby Areas
Visiting Angels Helps Families in Centerville, South Dayton, Xenia, and Surrounding Cities Prepare for a Free Home Care Consultation
If your elderly loved one has reached a point where it is difficult for them to live at home safely on their own, you may consider personalized home care. When it comes to care in the home, we understand that you probably have many questions about scheduling, services, affordability, caregivers, and if it is even the best option for your loved one.
At Visiting Angels of South Dayton, we offer a free in-home consultation to help you and your family learn about the benefits of home care, our services, and our caregivers. Our care coordinators will meet with you and your loved one in your home to answer all of your questions and concerns. The consultation is completely obligation-free to ensure your peace of mind during this difficult time.
The Reason Behind a Free Consultation
Meeting with one of our care coordinators is the best way to learn about our services and home care in general. If you choose to hire a caregiver from Visiting Angels of South Dayton, the information you provide in the consultation will help our care coordinators formulate a personalized care plan that perfectly fits the care needs and preferences of your loved one.
Pre-Consultation Preparation
The best thing you can do before a consultation is to let your loved one know you are thinking about hiring a caregiver. While this can be a touchy subject for your loved one, it is important to let them know that your number one priority is their safety and well-being.
Before a consultation, you should also review your financial situation, think about your loved one's care needs, and make a list of questions or concerns you may have.
During the Consultation
A care coordinator from Visiting Angels of South Dayton will meet with you and your loved one in your loved one's home to talk about their care needs. While talking about personal care needs may be embarrassing for some seniors, our kind care coordinators are respectful and know how to put your loved one's mind at ease. If you live far from your loved one, you can participate in the consultation over the phone. Coordinators may discuss:
Assistance with Daily Tasks
Caregivers can provide your loved one assistance with laundry, preparing meals, shopping, and mild housework.
Memory Assistance
Caregivers can assist your loved one with remembering to eat, drink enough water, take their medicine, and to get enough exercise.
Personal Care Assistance
Caregivers can help your loved one with grooming, dressing, bathing, and toileting, as well as help prevent your loved one from falling.
Emotional Care
Caregivers can provide your loved one with meaningful conversation and companionship.
Logistics
Discuss how caregivers can enter your loved one's house, how to get a hold of our agency, and how to change your loved one's care schedule.
Scheduling
Discuss the times your loved one will require care, whether a few hours a week or 24/7.
Requests
Discuss the unique health conditions of your loved one, allergies, favorite meals, transportation assistance, and more.
Post-Consultation
After a consultation, your care coordinator will compile all the information you provided into a home care plan suited to your loved one's needs and preferences. Then, your care coordinator will match your loved one with a caregiver who can provide the services they need and who also fits your loved one's personality.
Care can begin as early as 48 hours after the consultation. However, in rare instances, care can begin the day of the consultation.
Learn More
If you are nervous about your loved one's safety in their home, call us today at 937-813-6568 to learn about our home care services. Remember, you do not have to go through this alone.
Serving Centerville, Xenia, Springboro, Miamisburg and the surrounding Dayton Communities
Visiting Angels
SOUTH DAYTON, OH
4 W Franklin St
Centerville, OH 45459
Phone: 937-886-6880
Fax: 937-716-2340