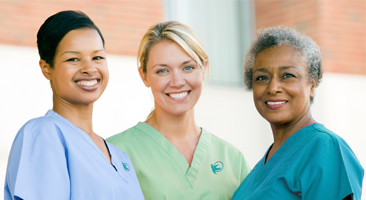 Are you interested in a rewarding career that makes a positive impact on the daily lives of others? APPLY TODAY to join our team of award-winning home caregivers in South Dayton, Centerville, and the surrounding communities!
Visiting Angels' Caregiver Careers in Centerville, Dayton, and Nearby Cities
Visiting Angels of South Dayton is proud to have a trustworthy and dedicated Caregiving team that shares the same goal: changing the lives of our senior clients for the better. We are committed to helping seniors in the community stay in the comfort of their homes while providing the best in quality, one-on-one senior care. We know that our care team is the backbone of our agency, and rely on their skills to ensure we are providing the type of care that we would want for our own loved ones. If you are compassionate, kind, accountable, and reliable, we would love to talk with you; call us today at (937) 813-6568!
Benefits of Being A Part of Visiting Angels
AFLAC supplemental healthcare plans are now available
Flexible scheduling, which includes convenient online schedule management
Competitive pay, based on experience
Paid training, with company-provided uniform
Company match 401K, after one year of employment
Meaningful work responsibilities that directly impact the lives of seniors
Organized and caring leadership, which provides clear communication and feedback
Online retailer discounts, discount merchandise, and company-sponsored team events
An Award-Winning Team that Shares Our Core Values
Our clients deserve the highest quality of care, which can only happen if our companions are well-trained, happy, and continuously supported. For this reason, we employ an extensive interview process, which allows us to better understand your skills, experience, personality, and passion for care. This provides us with the insight we need in order to find the best fit between our clients and our Caregiving team. Our attention to detail extends well past the interview process. Once you become an Angel, our staff will provide the superior training and support you need to complete your job assignments at the highest level.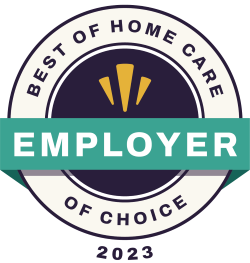 It is no surprise that we were voted by our clients and caregivers for the Employer of Choice award in 2019 and 2020.
We are humbled by this award and are confident that it was achieved through our Caregiver's commitment to our core values:
Display a Collaborative Spirit
Integrity in your Work Comes First
Posses Desire for Personal Growth
Project an Optimistic and Positive Attitude
What it's like to be an 'Angel'
"After working 20 plus years for the US Air Force at WPAFB I retired from there and gained employment with Visiting Angels. This is thus far my most blessed job to have... Among other things, caregiving for our seniors gets me out of the house and keeps me motivated. I sincerely enjoy my visits with clients. I enjoy caregiving and doing things, such as, cleaning house, shopping, assisting with doctor appointments, playing board games, taking them out to eat, and just being a companion in general. It gives us caregivers such joy being their "Angel". Visiting Angels is a great company to work for. This company teaches us many skills and the travel isn't bad either. If you enjoy meeting and interacting with new people this company is for you and always there for the employees ready to lend a helping hand. The office staff are very pleasant as well, they truly appreciate their employees. I just love my job and helping others!"
-Glinda Rankin, caregiver, Visiting Angels of South Dayton