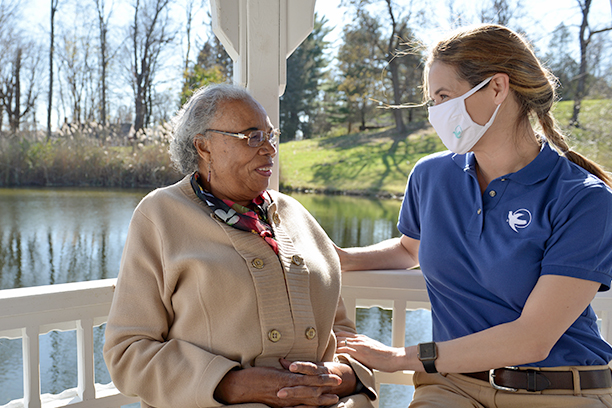 Worried About the Health and Safety of a Loved One Who Lives Alone in Dayton, OH? Our Senior Caregivers Can Help!
Visiting Angels of South Dayton offers Home Care to Seniors in Dayton, OH, and Surrounding Areas
Visiting Angels of South Dayton in Dayton, OH, and surrounding areas provides at-home care services for seniors. These services are available on a part-time, full-time, or around-the-clock basis. While aging in place, we want to help your loved one with our personalized care. Our experienced caregivers have the training needed to keep your loved one comfortable and safe in their home.
At Home Care Solutions
Our one-on-one home care services include and are not limited to various solutions for your loved one. All services can help with challenges such as mobility, grooming, self-care, and more.
The reality is that few seniors wish to spend the remainder of their lives away from family in a nursing home or assisted living facility. Our superior home care services make it possible for your loved one to enjoy living safely in familiar surroundings no matter what their physical, mental, or age-related issues might be.
Seniors and Their Physical Health
There is nothing quite like fresh air and sunshine to improve one's constitution. In fact, doctors highly recommend it as part of an overall healthier lifestyle. Our caregivers are always happy to provide transportation and companionship to various events and places, such as an evening at The Neon movie theater, take a walk at the Eastwood MetroPark, or get a nice meal at the Wheat Penny Oven and Bar.
At Visiting Angels of South Dayton, our caregivers provide high-quality at-home care services to seniors in Dayton, OH, and the surrounding area. From helping with meal preparation, toileting, getting dressed, and more, our caregivers are here to help. See how we can make a difference in your loved one's life.
Contact Visiting Angels of South Dayton
Contact Visiting Angels of South Dayton at 708-226-1028 to learn more about the many essential elderly home care services we offer for seniors. We are only one call away to meet and create a personal care plan for your loved one today.
Serving Centerville, Xenia, Springboro, Miamisburg and the surrounding Dayton Communities
Visiting Angels SOUTH DAYTON, OH
4 W Franklin St
Centerville, OH 45459
Phone: (937) 813-6568