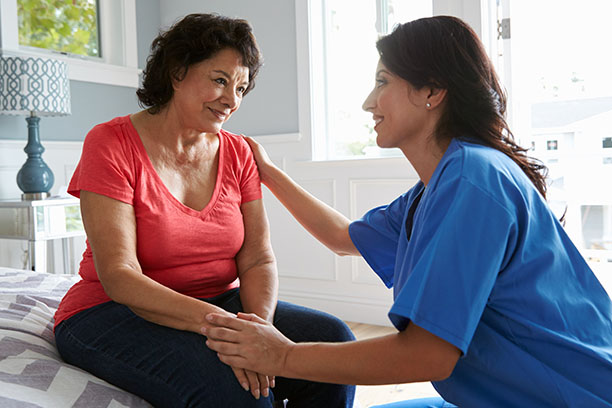 Dementia Care for Seniors in South Dayton, OH, and the Nearby Areas
Dementia care from Visiting Angels of South Dayton has helped many families who have a loved one with dementia. Being a family caregiver for a loved one with dementia can be complicated and overwhelming. Family caregivers often have to make sure their loved one is taking their medication, take them to doctor's appointments, and help manage the emotional outbursts common for seniors with dementia.
Visiting Angels Provides Compassionate and Professional Dementia Care Services to Seniors in South Dayton, Xenia, and Nearby Cities
At Visiting Angels of South Dayton, we provide you with another option: professional, in-home dementia care. We understand the unique challenges that go along with many different forms of dementia. Because of this, we have created compassionate care that lifts the burden from families while providing professional, compassionate home care services in your loved one's home.
Lewy Body Dementia Diagnosis
As the condition progresses, seniors who have been diagnosed with Lewy Body Dementia will eventually require round-the-clock supervision. The prospect of watching a loved one's well-being worsen due to dementia is complex, and finding the correct care option is even more difficult. Many families decide to place their loved ones in an assisted living facility. Their quality of life, on the other hand, can be negatively impacted by their unfamiliar surroundings.
In-home dementia care is often the most appropriate option for many elders suffering from Lewy Body Dementia. Many family caregivers are unprepared to deal with the symptoms of dementia when providing care for elderly relatives.
That is why Visiting Angels of South Dayton delivers high-quality senior care for persons suffering from Lewy Body Dementia and other related conditions. Our skilled and empathetic caregivers can assist your loved ones in managing their symptoms and completing daily duties with minimal assistance. By providing care for seniors suffering from this disease, we can ensure that they receive the assistance they require to spend their golden years in the comfort and familiarity of their own homes.
What is Lewy Body Dementia?
Lewy Body Dementia (LBD) is the second most common type of degenerative dementia, affecting 1.4 million people in the United States of America. A smooth, circular clump of protein, known as Lewy bodies, accumulates in the nerve cells of affected areas of the brain, resulting in the development of the disease. It is important to note that this condition, like many other forms of dementia, is progressive, which means that your loved one's symptoms will worsen over time, eventually requiring them to need advanced care.
How Visiting Angels Can Help
New challenges arise every day for seniors with dementia. One day, specific tasks may be easy for them and difficult the next. Visiting Angels of South Dayton created caregiving services in partnership with the Alzheimer's Foundation of America to address the distinctive challenges and needs of those with dementia.

Our qualified caregivers can help your loved one with many daily tasks and activities, including, but not limited to:
Managing dementia symptoms such as confusion, anger, and anxiety
Providing transportation to doctor's appointments and therapy sessions
Assistance running errands
Planning and preparing healthy meals
Monitoring fluid intake
Coordinating with their doctor to ensure they are following the doctor's instructions
Mobility assistance inside and outside the home
At Visiting Angels of South Dayton, our caregivers can pursue advanced training in caring for someone with dementia. However, we focus on a caregiver's skills as well as their personality and disposition. We want our clients to feel safe, respected, and supported.
Learn More by Scheduling Your FREE, In-Home Consultation
If you have a loved one who has been diagnosed with dementia, Visiting Angels of South Dayton is here to help. We have designed our dementia care to fit everyone's needs and preferences, and our caregivers are both professional and compassionate. Reach out to our team to schedule your free in-home consultation today.
To learn more about how our dementia care services can help your loved one, call our agency at (937) 886-6880 or click one of the buttons below to get started today!


Serving Centerville, Xenia, Springboro, Miamisburg and the surrounding Dayton Communities
Visiting Angels
SOUTH DAYTON, OH
4 W Franklin St
Centerville, OH 45459
Phone: 937-886-6880
Fax: 937-716-2340