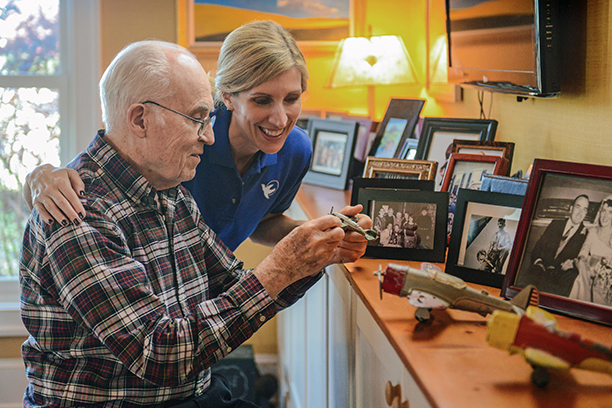 One-on-One Home Care in Centerville, South Dayton, OH, and the Surrounding Area
Visiting Angels Offers One-on-One Care to Seniors in Centerville, South Dayton, Xenia, and Nearby Cities
For families with aging loved ones, the choice of senior care options to keep their loved one in good health can feel overwhelming. A variety of in-home and institutional care options exist, from nursing homes to assisted living facilities to independent contractors to home care agencies like ours. At Visiting Angels of South Dayton, we are in this business because we know it is the best way to serve seniors who want to age in place. We are dedicated to increasing the quality of life of each of our clients, one day at a time.
The Benefit of One-on-One Care
One-on-one home care services have been proven to decrease senior loneliness and isolation. That means one-on-one care and assistance can help your loved one decrease their risk of heart disease, diabetes, and other chronic conditions that can be hard to live with. In a nursing home, your loved one will receive care from whoever is on the clock. With Visiting Angels of South Dayton, one of our experienced and compassionate caregivers will be there to provide the care your loved one needs.
Custom Care for Your Specific Needs
Every care plan our home care providers develop is meant to increase the quality of life for that individual client. Just like no two people are alike, no two care plans should be alike! Whether your loved one needs help getting dressed in the morning, someone to prepare meals, or a caregiver to help them get to sleep at night, you can count on us to always provide a caring presence. Please contact our agency today to learn more about your loved one's care options.
We Build Relationships
The one-on-one connection developed through companionship care can truly be special and lifesaving. Your loved one will not only have assistance with a wide range of daily tasks, but they will have someone to share a cup of coffee with, talk and reminisce with, and who will encourage them to try out new hobbies, pursue social opportunities, and attend community events. Each of our caregivers is licensed, bonded, insured, and recruited based on their expertise and personality traits. Our team offers top quality services in accordance with best practices of senior care, from folks who were selected because they are positive, kind, funny, and respectful.
Learn More About One-on-One Care
If you are helping to care for a senior who wants to maintain their independence, there are many options in home care that can meet your needs. Visiting Angels of South Dayton is ready to help your family build a care plan that is right for you. Call our local agency today to get started.
Serving Centerville, Xenia, Springboro, Miamisburg and the surrounding Dayton Communities
Visiting Angels SOUTH DAYTON, OH
4 W Franklin St
Centerville, OH 45459
Phone: (937) 813-6568