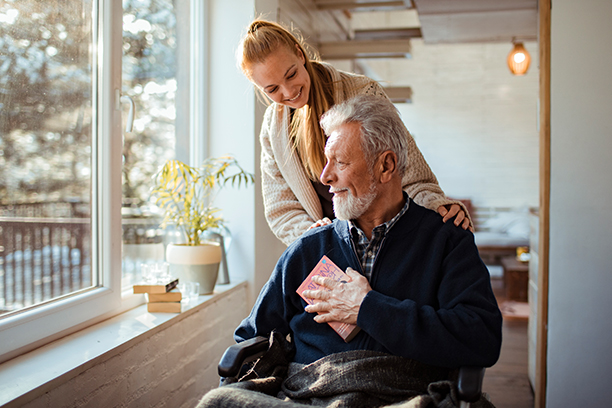 Companion Home Care Includes Meal Preparation in Centerville, South Dayton, OH, and the Surrounding Area
Improve Your Aging Loved One's Quality of Life with Expert Companion Home Care in Centerville, South Dayton, Xenia, and Nearby Cities
Maintaining a healthy diet is important for all of us because of the many good impacts your diet can have on your health. Including fresh foods, produce, fruits and vegetables, and a healthy balance in your diet can decrease high blood pressure and other heart problems, increase circulatory health, decrease cholesterol, and help regulate chronic health problems.
How to Know If a Senior Needs Assistance with Meals
Does your aging loved one have trouble getting to the grocery store?
Does your aging loved one struggle to prepare their own meals or use their fine motor skills?
Is your loved one following their doctor's dietary recommendations?
Does your aging loved one have health circumstances that impact their diet?
Is your loved one taking the appropriate water or food with their medication schedule as needed?
Each of these questions is vital to your loved one's long-term well-being, and companion home care can make sure you know the answer. Our elderly care providers can help your loved one with mobility and transportation issues, as well as provide grocery shopping services. We know that meal preparation can be challenging for those with arthritis and other conditions, so we can help prepare and store healthy meals for everyday use.
Many seniors have chronic conditions, or medication side effects, that can be helped or hurt by what they eat. Our caregivers will work with your loved one's medical providers to understand what foods should be avoided or encouraged and help your loved one modify their diet accordingly.
Local Caregivers That Care for a Senior's Well-Being
Seniors may experience additional challenges in accessing, preparing, and enjoying healthy foods as part of a balanced diet. The companion home care providers at Visiting Angels of South Dayton are uniquely able to help, as they are trained to understand seniors' needs and work to resolve them. When you work with Visiting Angels of South Dayton, you'll have access to the expertise of one of your neighbors, who understands how to help seniors access healthy food, and knows the best places to grocery shop for cost-effective and fresh solutions.
Contact Us Today
Our elderly care providers can help with all these scenarios while also ensuring that the kitchen remains a safe, clean, and healthy space for your loved one. If you are concerned about an aging loved one who lives alone, call Visiting Angels of South Dayton today at 937-813-6568 to learn more about our companion home care services.
Serving Centerville, Xenia, Springboro, Miamisburg and the surrounding Dayton Communities
Visiting Angels SOUTH DAYTON, OH
4 W Franklin St
Centerville, OH 45459
Phone: (937) 813-6568