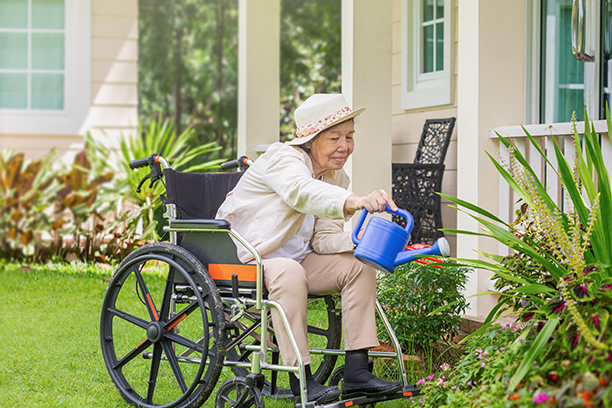 Explore Certified Palliative Care for Seniors in Centerville, South Dayton, OH, and the Surrounding Area
Certified Palliative Care for Seniors with Long-Term Illnesses in Centerville, South Dayton, Xenia, and Nearby Communities
If you have an aging loved one who has a long-term illness and comfort is their primary goal, it is time to turn to holistic care. While hospice care helps seniors ease their discomfort at the end of their lives, our Certified Palliative Care Program can be beneficial to seniors at any stage. Holistic care relieves pain and stress from long-term severe illnesses and health conditions. This program promotes a sense of peace and well-being, regardless of life expectancy. At Visiting Angels of South Dayton, we provide seniors with comfort and compassion in their own homes' familiar settings.
How Can Holistic Care Help My Loved One?
We train our caregivers to be supportive of a senior's whole health. They are comforting and kind, in addition to their exceptional caregiver skills. Our caregivers follow health and safety protocols, such as frequent hand washing and wearing gloves. Our Certified Palliative Care Program addresses an array of needs:
Physical Needs -

recognizing and responding to pain or discomfort, assisting with mobility issues, and providing essential

personal care
Emotional Needs -

adopting a compassionate, dignified approach; supporting seniors who may be suffering from depression, loneliness, stress, or anxiety

Social Needs -

building relationships with our clients and their families; providing companionship and conversation

Spiritual Needs -

restoring hope in their lives; helping them find meaning and purpose; assisting with access to religious or faith-based support
What Are the Benefits of Holistic Care at Home?
There are many benefits to seniors who are utilizing our Certified Palliative Care Program:
Your loved one can stay where they are most comfortable: home

The focus is on more than just a senior's health; we also focus on their happiness

Our agency can work with a senior's medical team to ensure their entire health is being taken care of

While medical professionals focus on treatments, our caregivers can focus on alleviating pain and symptoms

Chronic illnesses that are often seen as debilitating become more manageable when a senior has an experienced professional at their side

Clients often say that due to our

home care solutions

, they can avoid additional visits to their doctors
Learn More About In-Home Holistic Care with Visiting Angels of South Dayton
If you have an aging loved one who needs holistic help at home, look no further than Visiting Angels of South Dayton. Our Certified Palliative Care Program offers seniors the ability to stay comfortable at home for as long as possible, even if they have a long-term illness. To schedule your free, in-home assessment with one of our care coordinators, click one of the buttons below.
Serving Centerville, Xenia, Springboro, Miamisburg and the surrounding Dayton Communities
Visiting Angels SOUTH DAYTON, OH
4 W Franklin St
Centerville, OH 45459
Phone: (937) 813-6568