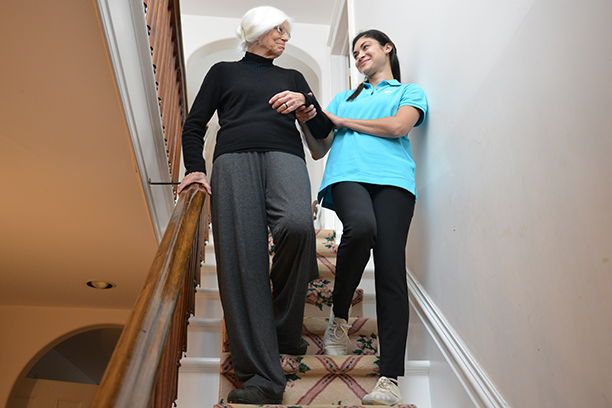 How to Get Started with At-Home Care in Greater Centerville and South Dayton, OH
Getting started with senior care services can be a daunting task. That's why Visiting Angels works hard to make this process of arranging at-home care as easy as possible for you and your family.
Visiting Angels Makes It Easy to Get Started with Our At-Home Care Services in Centerville, South Dayton, Xenia, and Nearby Cities
The decision to seek professional care for a loved one is never easy. You likely have concerns about bringing in an outsider to care for your loved one.
Commonly asked questions include:
Will the caregiver treat my loved one with respect?
How do I choose a responsible provider?
How do I make sure care is relevant to my loved one's needs?
As an experienced provider of at-home care for seniors, Visiting Angels of South Dayton is familiar with questions such as these, and we can help put your mind at ease.
Visiting Angels of South Dayton is a locally owned and operated at-home care agency providing dignified, respectful care to seniors and disabled adults. Our intensive interview process helps to ensure your loved one is cared for by a responsible professional. We run a thorough background check on all potential caregivers to help calm your worries. Additionally, we make sure our care is relevant to the needs of individual seniors by offering one-on-one care services. We will take the time to learn about your loved one's home care needs prior to creating their personalized plan.
Care from Visiting Angels of South Dayton
As mentioned above, Visiting Angels of South Dayton provides care to seniors. This is one of the biggest benefits of choosing our agency for assistance. Using our system of Life Care Navigation™, we will choose services from several main areas of senior care to design your family member's care plan.
Some services which are frequently requested from Visiting Angels of South Dayton include:
Going grocery shopping or running errands
Help with meal planning and preparation
Walking assistance and fall prevention
Personal hygiene, bathing, and dressing
Medication reminders and monitoring
Transportation assistance
Joyful companionship and social care
Doing dishes or light housekeeping
Book a Free Consultation
You can book a complimentary consultation to help your loved one get started with care from Visiting Angels of South Dayton. Your loved one won't even have to leave their home, as our care coordinator comes right to you. We will sit down in the comfort of your loved one's home to discuss their physical and emotional needs. Scheduling is simple, as we have caregivers available to help at all hours: day, night, evenings, and weekends.
Call Visiting Angels of South Dayton today at 937-813-6568 and ask about our at-home care services and how they can benefit your loved one in Centerville, South Dayton, Xenia, Springboro, or the surrounding area.


Serving Centerville, Xenia, Springboro, Miamisburg and the surrounding Dayton Communities
Visiting Angels
SOUTH DAYTON, OH
4 W Franklin St
Centerville, OH 45459
Phone: 937-886-6880
Fax: 937-716-2340