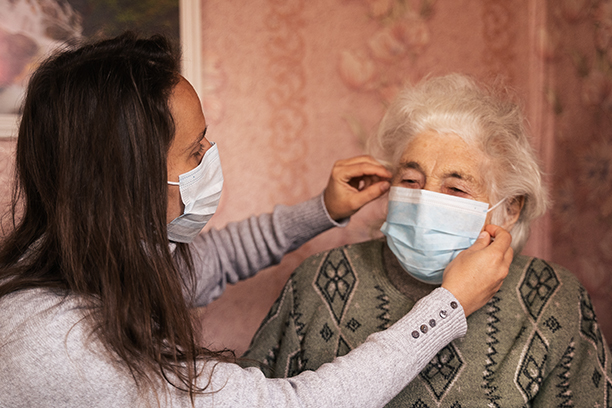 Long-Term Home Care for Seniors in Centerville, South Dayton, OH and Nearby Cities
Visiting Angels of South Dayton Provides Long-Term Home Care for Seniors Living in South Dayton, Centerville, Xenia, and Surrounding Areas
People experience many new challenges as they age that can make daily tasks difficult without assistance. Sometimes even simple activities like bathing, walking, and cooking can be hard or painful. These activities can grow more and more tiresome as seniors age, especially for seniors suffering from dementia.
When your loved one begins to experience difficulty completing average daily tasks, it may be time to look for additional assistance. Visiting Angels of South Dayton offers long-term home care for seniors, which means your loved one can receive all the support they need while they continue to live in the comfort of their own homes.
What Is Long-Term Care and How Can It Help?
At Visiting Angels of South Dayton, long-term home care means assisting your loved one throughout the day and giving them the support they need. Our experienced caregivers can help your loved one in a number of ways including but not limited to:
Assistance with mild housework

Keeping your loved one from wandering

Assistance with transportation

Help grocery shopping

Getting your loved one to doctor's appointments

Assistance cooking healthy meals

Assistance with personal care, such as dressing, toileting, and grooming

Helping your loved one remember to take medication on time
Our caregivers at Visiting Angels of South Dayton also provide meaningful companionship and support to seniors.
The Benefits of Long-Term Care
Long-term home care for the elderly can benefit your loved one in so many ways. Seniors who struggle with chronic illness can receive assistance from our caregivers who support them in maintaining a healthy lifestyle and help with symptom management. For seniors who are undergoing in-home treatment for cancer or other diseases, our caregivers can assist your loved one complete daily tasks that have become challenging. Our specialized caregivers can also provide support for seniors suffering from illnesses like dementia and Alzheimer's by making sure they are safe at all times and can help prevent wandering and falls. With our essential care services, you never need to worry about your loved one's safety.
Getting Started with Long-Term Care
Long-term care can be expensive for some families, but with our care plans, covering costs becomes much easier. If your loved one is having difficulty completing daily tasks or is having a hard time enjoying life without care, don't hesitate to call Visiting Angels of South Dayton at 937-813-6568 today.
Serving Centerville, Xenia, Springboro, Miamisburg and the surrounding Dayton Communities
Visiting Angels SOUTH DAYTON, OH
4 W Franklin St
Centerville, OH 45459
Phone: (937) 813-6568