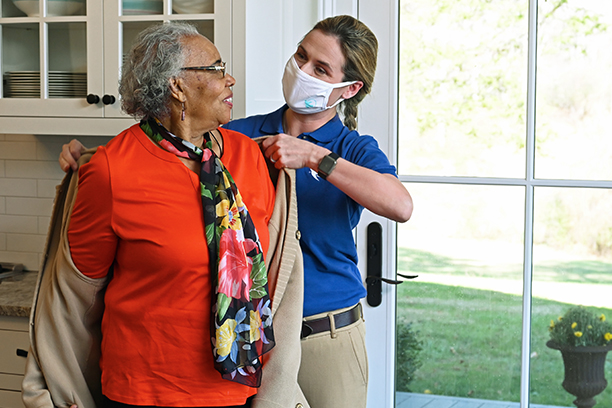 Visiting Angels recovery home care is offered in Bangor, ME
Seniors in Bangor, Maine, and the surrounding areas can get home care services from Visiting Angels.
Most patients will require more time and help after surgery. You will probably continue your recovery at home after being released from the hospital, where you will need the services of a home care provider to help you get back on your feet.
In addition to assisting with the healing process, our qualified care coordinators can significantly reduce the probability of hospital readmission.
Not only senior patients who are recovering from surgery require support, but also other patients.
Not just the elderly, but people of all ages who have undergone various medical operations, can receive assistance from our caregivers! Daily tasks, including washing, dressing, cooking, restroom use, and traveling to and from post-operative appointments, may require our service.
Pick home care as a component of your recovery plan.
Before surgery, your medical staff might advise that you have a care plan. Your doctor will review the tasks you might need assistance with on the day of the procedure and in the days and weeks following as part of your pre-surgical preparation. After determining your post-operative care needs, you can book home care services with our Bangor, Maine office.
In addition to serving the elderly, we also provide exceptional in-home rehabilitation services to people of all ages. We train every caregiver to perform post-operative care with decency, patience, and professionalism because we understand how personal this kind of care is.
Act now.
Please contact our Bangor, Maine office if you have any inquiries about our home health care services or would like to schedule a free in-home consultation. Please fill out the intake form below or use one of the links below to contact our office.
Serving Bangor, Brewer, Hampden, Orono, Old Town, and the Surrounding Area
Visiting Angels
MID MAINE
444 Stillwater Ave, Suite 101
Bangor, ME 04401
Phone: 207-605-8288
Fax: 207-573-1863