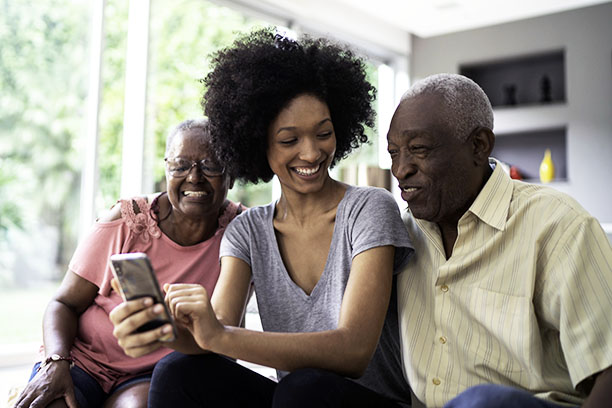 How Our Companion Home Care Services Help Seniors in Adrian, MI and Surrounding Areas Stay Connected
Visiting Angels provides quality companion home care services for seniors in Adrian, Brooklyn, Jackson, Onsted and surrounding communities in South Central Michigan through our Social Care program in order to help them stay connected with friends and family through digital tools
At Visiting Angels South Central Michigan, our mission is to help our senior clients continue living happy, healthy, active lives at home for as long as possible. To achieve this, we offer a wide array of personalized companion home care plans designed to address the specific care needs of each senior we serve. Our Social Care is one such program.
With the assistance of our dedicated caregivers, older adults learn how to use modern technologies, the internet and popular platforms such as Facebook, Skype, and FaceTime to remain active and engaged.
The Benefits of Social Media and Digital Tools for Seniors
As your loved one ages, it can become more difficult for them to leave the house and spend time with friends and family. Mobility issues can make it difficult to walk with friends or keep up with younger family members on a trip. Cognitive and memory issues can make seniors prone to forgetting important get-togethers or forget how to get there. Seniors who are aware of the impact that age-related difficulties have on their social life may choose to isolate themselves so they don't feel embarrassed in front of those they care about.
However, isolation can lower a senior's well-being and make them feel depressed or lonely. That's why when providing care for an older adult, it's important to focus on their social well-being. One way Visiting Angels South Central Michigan likes to help seniors stay in touch with loved ones is by teaching them how to use digital devices as communication tools as part of our companion home care services.
In the last few years, there were several studies that sought to show the impact that modern technologies had on improving the overall quality of life in the senior population. Some of those researchers came up with interesting conclusions. According to one study conducted at the University of Arizona, seniors who regularly used Facebook showed a 25 percent improvement in mental skills and working memory. Another research concluded that surfing the internet helped reduce depression in seniors by 20 percent*.
How Companion Home Care Services Help Seniors in Adrian and Nearby Communities Stay Connected
At Visiting Angels South Central Michigan, we offer a number of senior care programs designed to help older adults become more independent and boost their overall wellness and quality of life.
With the help of a friendly caregiver, your loved one can learn how to:
Use a touch-screen cell phone

Use a tablet, laptop, or personal computer

Text, send e-mail, find information online, and use Skype or FaceTime

Create a Facebook account and correspond with family members and friends

Log in without assistance, surf the internet, and shop online
The most important thing is that with these new skills, your mom or dad can reap many benefits. They can regularly keep in touch with loved ones even if they live out of state, meet new people who share similar interests, find entertainment, and shop and order services and consumer goods without having to leave their home or wait for you to get something for them. All of this can boost your loved one's social wellness and make them feel less lonely and isolated. Moreover, our Social Care program is ideal for seniors who are housebound or don't get out much due to a medical problem or a mobility issue.
Call our Adrian, MI office today and learn more about companion home care services from Visiting Angels. We are happy to answer all your questions and schedule your free in-home consultation. We are here for you!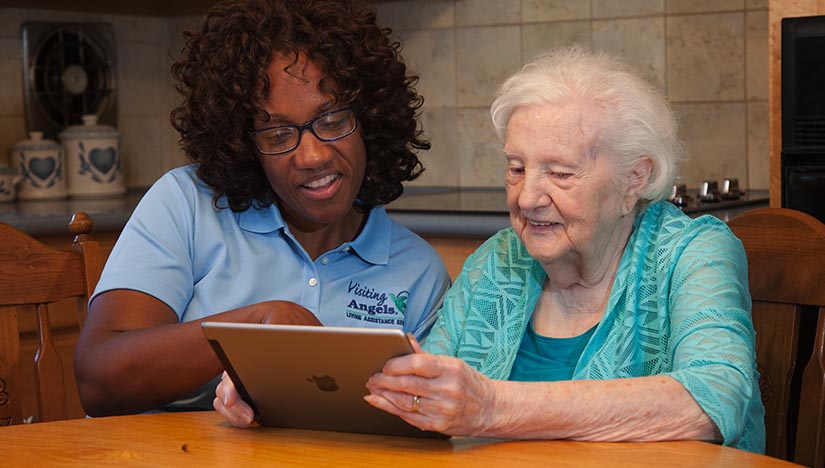 * Washington, D.C. based Phoenix Center
Serving Adrian, Jackson, Brooklyn and the Communities of Lenawee, Hillsdale and Jackson Counties throughout South Central Michigan
Visiting Angels
SOUTH CENTRAL MICHIGAN
3300 N Adrian Hwy
Adrian, MI 49221
Phone: 517-920-4254
Fax: 888-306-0434