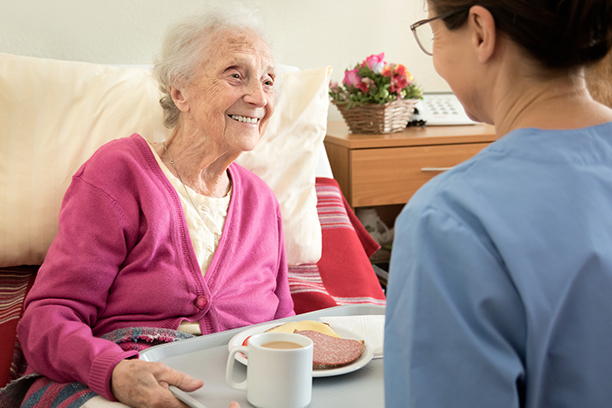 How Our Home Care Aides Can Help Seniors in Springfield, MO and the Surrounding Area
Visiting Angels' Home Care Aides Go Above and Beyond for Their Clients in Springfield, Nixa, Ozark, Republic, and Nearby Cities
For compassionate, hardworking families, care from a home care aide is a great choice. Hiring a professional caregiver affordable and safe, and it allows loved ones to stay in the home and community they know. Here are a few of the benefits of home care in Springfield for senior citizens.
Providing Peace of Mind
Our home care aides can be there for a senior when family members cannot. This is particularly beneficial if the family is managing the senior's care from a distance and they want to ensure close monitoring and complete safety. Visiting Angels of Springfield's trained caregivers can assess a senior's safety risks and make recommendations while monitoring potential problems. With help from Visiting Angels of Springfield, even the busiest families can ensure that their loved ones get the care they need.
Making Everyday Life Easier
With home care, a senior can get the personal help they need, which can help them retain their dignity and quality of life. Assistance with activities of daily living may include grooming, bathing, medicine reminders, and more. These tasks may seem simple, but they're important to seniors who want to age in place.
Managing Meals and Medication
Is your loved one getting the nourishment they need to remain healthy? Those over age 65 are more likely to suffer nutritional deficiencies. However, help with cooking and nutritional counseling can prevent malnutrition and other risks. Visiting Angels can help with everything from grocery shopping to meal prep, which ensures that the senior has a balanced diet.
A senior citizen who takes multiple medicines may have difficulty managing them all. Our caregivers can ensure that clients take their pre-dispensed medications at the proper times to control their health conditions.
Simple Companionship
Research shows that senior citizens who interact socially with others are healthier and can live longer. Our home care aides can help seniors participate in activities such as movies, walks, communal meals, and others. By accompanying the senior on errands such as medical appointments, grocery store visits, and shopping trips, our caregivers can help your seniors get the socialization they need to stay healthy.
Help at Home
Aging seniors sometimes find it hard to complete every day home chores. Another benefit of in-home care is our caregiver's ability to help clients with household tasks such as dish-washing, laundry, and everything else needed to maintain a healthy, clean living environment. Our in-home caregivers provide the specialized, personalized attention seniors need. These services are very unique, providing one-on-one interaction that helps build trust between patients and caregivers.
Call Visiting Angels of Springfield Today
Our team at Visiting Angels of Springfield is ready to answer your family's questions, and we will work with clients to develop customized care plans. Contact us today at 417-863-8006 to learn more about our home care aides.
Serving Springfield, Nixa, Ozark, Republic, Branson, Hollister, MO and the Surrounding Areas
Visiting Angels
SPRINGFIELD, MO
1259 E Republic Rd
Springfield, MO 65804
Phone: 417-863-8006
Fax: 417-863-1860