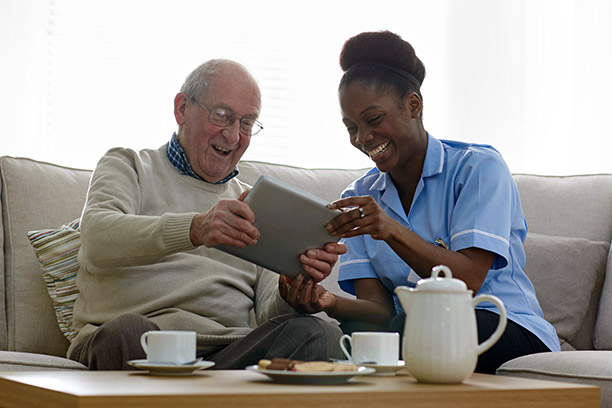 Alzheimer's Services Throughout Springfield, MO and Neighboring Communities
If your spouse, parent, or relative is suffering from Alzheimer's, it is possible you are worried about whether they can live at home safely and comfortably. If this is true, you are not alone. Today, many American families struggle with an Alzheimer's diagnosis every single year. Many of them turn to outside help so their loved ones will be cared for and safe. At Visiting Angels of Springfield, our Alzheimer's services are designed to help those who are suffering from Alzheimer's and other memory disorders in Springfield, Nixa, Ozark, Republic, and the surrounding area. We provide help via compassionate and knowledgeable care and support.
Visiting Angels Offers Alzheimer's Services to Seniors and Their Families in Springfield, Nixa, Ozark, Republic, and Surrounding Areas
Moving to a nursing facility can be deeply upsetting for those with Alzheimer's, but this may not be necessary with our Alzheimer's services. Your loved one can receive the one-on-one home care they need at home instead of moving into an assisted living facility.
Benefits of Our One-on-One Care for Alzheimer's
Alzheimer's services from Visiting Angels of Springfield help your loved one receive the care they need where they are most comfortable, not in a new place they are unfamiliar with. Alzheimer's, dementia, and related illnesses are inherently disorienting, so familiar environments and routines are crucial. Our services make it possible for seniors to receive the support they need with minimal disruption to their lives. Our caregivers can help to reduce stress and anxiety, provide the attention necessary to prevent injury or accidents if your loved one is disoriented and promote a healthier lifestyle designed to help reduce the progression of their memory disorder where possible.
Contact Visiting Angels of Springfield
Visiting Angels of Springfield is proud to be a part of a pioneering initiative in Alzheimer's services. This is due to our work with the Alzheimer's Foundation of America. With the services we provide, seniors can receive care that has been designed for them with input from experts in Alzheimer's and dementia. The AFA has also sponsored and contributed to special training programs for Visiting Angels of Springfield, which means our home care providers can receive specialized training in Alzheimer's care.
The kind of flexibility available with Visiting Angels of Springfield simply is not found with other senior care providers. We will make sure we get your loved one's care right. We are willing to customize your loved one's care plan to meet their specific needs and assist with the difficulties your loved one may face. We also encourage families to screen our caregivers before starting care to make sure you find the right fit for you and your loved one. Reach out to us today; our team is here to answer any questions you may have about Alzheimer's and how we can assist.
Contact our home care agency today at 417-863-8006 to learn more about our essential home care options.
Serving Springfield, Nixa, Ozark, Republic, Branson, Hollister, MO and the Surrounding Areas
Visiting Angels
SPRINGFIELD, MO
1259 E Republic Rd
Springfield, MO 65804
Phone: 417-863-8006
Fax: 417-863-1860