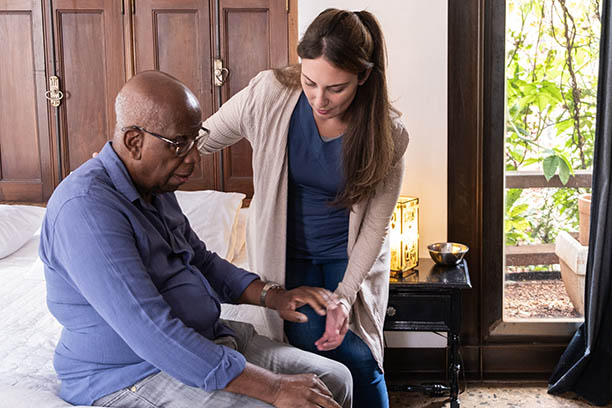 Certified Palliative Care in Springfield, MO, and the Surrounding Areas
When a loved one has a medical condition that is serious or life-threatening, palliative care services offered through Visiting Angels of Springfield can be a great help.
Often referred to as supportive or comfort care, the purpose of our palliative services is to improve the patient's quality of life. Our services focus on helping seniors and their families cope with the symptoms and fears of their medical condition. By relieving symptoms, palliative care often improves someone's ability to tolerate medical treatments and their ability to recover. This type of one on one home care also addresses any social, psychological, or spiritual issues that come up during this time.
Visiting Angels Provides Certified Palliative Care to Seniors in Springfield, Nixa, Ozark, and Nearby Cities
Families find these services to be of great help in making their loved ones more comfortable and ensuring they maintain the highest level of quality of life. Here are the main points every senior and their family should understand about these services.
Essential Care May Begin at Any Time
Families often put off contacting a senior care agency until the loved one's condition has advanced. However, this type of care may begin when the patient is first diagnosed. For instance, it can be of great help to a cancer patient who is having trouble voicing their emotions regarding the diagnosis, the treatment they are undergoing, the uncertainty they are facing, and more. As our care specialist addresses all issues that arise and works with a multidisciplinary team to provide holistic care to the patient, their quality of life improves.
Is This Hospice Care?
This is where many people are confused. While both are designed to support and comfort the patient, palliative home care is not reserved for end-of-life or those who have a terminal disease. Most hospice programs are set up to help patients who have a terminal illness and are not expected to live another six months. Palliative care does not have the same restrictions.
The Benefits of Palliative Services
When a person is very ill, the entire family suffers. However, they remain an important part of the person's essential care and may need assistance in handling the changes they are experiencing because of the diagnosis. Home care providers help family members adjust to any extra responsibilities they are now facing while still meeting their normal obligations. Furthermore, emotional issues can be addressed, and social support provided.
Research consistently shows seniors benefit when they take advantage of palliative care services. When a loved one's symptoms are controlled, and they have an outlet for their emotions, they tend to have a better experience overall. Both their physical symptoms and quality of life are improved because of this care.
Additional benefits include:
Our caregivers focus solely on your loved one's health AND happiness
We will be there when you need us most - all our essential care plans are based on your schedule
Whatever additional services you need it comes included
With our help, seniors typically visit doctors less because we assist with pain management
Our caregivers can assist seniors with chronic conditions, allowing them to maintain their independence
Learn More
Contact Visiting Angels of Springfield today to learn more about palliative care and how it may be of help to your loved one in Springfield, Nixa, Ozark, Branson, or the surrounding area. Our essential home care services are here to help in any way we can.
Our caregivers are here to help. Reach out to us today!


Serving Springfield, Nixa, Ozark, Republic, Branson, Hollister, MO and the Surrounding Areas
Visiting Angels
SPRINGFIELD, MO
1259 E Republic Rd
Springfield, MO 65804
Phone: 417-863-8006
Fax: 417-863-1860