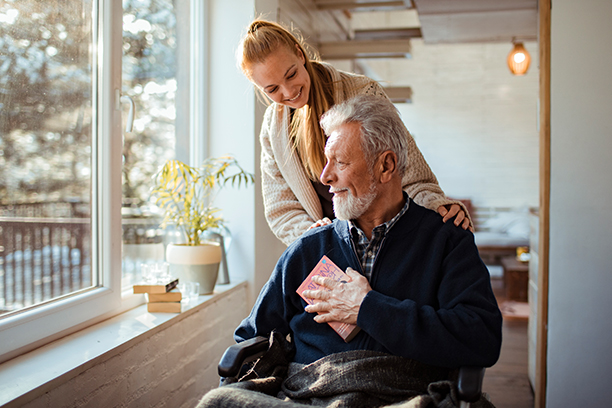 Quality Home Care for Stroke Recovery in Greater Springfield, MO
Visiting Angels Can Help Seniors Recovering from Strokes with Our Home Care Options in Springfield, Nixa, Ozark, Republic, and Surrounding Areas
When a loved one suffers a stroke, recovery can feel like a far-away goal. Your family and your loved one deserve every resource to help you reach that goal, and that is why Visiting Angels of Springfield provides specialized stroke recovery services. Quality home care from an experienced caregiver can make a difference in your loved one's future.
After a stroke, many people experience partial paralysis, speech impairment, or memory loss; almost two thirds are left with a permanent disability. Your loved one and family will need to adapt to a new normal, and our care can help you do that. A caregiver can assist with your loved one's everyday needs, enabling your family to focus on your priorities.
How We Can Help
Successful recovery from a stroke requires a highly engaged team of medical professionals, in-home care, and supportive family and friends. A caregiver from Visiting Angels of Springfield can help with:
Transferring, positioning, and re-positioning throughout the day
Mobility assistance and the use of mobility assistance devices
Meal preparation, including establishing dietary habits recommended by your loved one's doctor
Transportation to doctor's appointments, the pharmacy, the grocery store, etc.
Companionship, one-on-one interactions, and regular wellness checks
A caregiver can accompany your loved one throughout their healing process, attending doctor's appointments and taking notes for family members who cannot be present. We will help you make sure that your loved one can access their doctor, physical therapist, and other professionals who are helping them heal.
From Hospital to Home
Our transitional care program ("Ready Set Go Home") can help your loved one adjust to life back home after their hospital care is complete. Transitional care is designed to help prevent costly hospital readmission, while ensuring that aftercare instructions are followed.
A caregiver provides invaluable companion care to your loved one, which has multiple benefits for emotional, social, and mental health. The relationship between a client and our caregivers provides a trusted resource, ready assistance, and expertise in healing and daily care. For clients who have had strokes, the opportunity to regularly communicate with someone who understands their health and limitations can help restore or develop their power of speech.
Learn More
If your loved has experienced a stroke, quality home care can help them heal and enjoy life at home. Learn more about our essential elderly services by calling our agency today at 417-863-8006.
Serving Springfield, Nixa, Ozark, Republic, Branson, Hollister, MO and the Surrounding Areas
Visiting Angels
SPRINGFIELD, MO
1259 E Republic Rd
Springfield, MO 65804
Phone: 417-863-8006
Fax: 417-863-1860