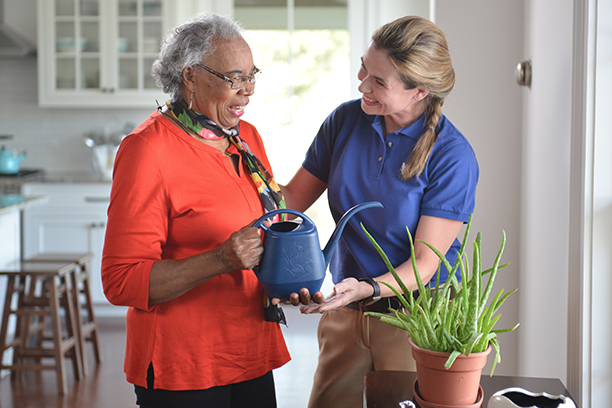 How Personal Home Care Can Provide Chronic Illnesses Support in Springfield, MO
Personal home care services are available to seniors in Springfield, Nixa, Ozark, and the Surrounding Areas.
At Visiting Angels, we have the knowledge and experience to assist elders in Springfield, Missouri, in managing chronic diseases through high-quality personal home care. While helping your loved ones maintain their freedom, our caregivers may also provide the critical support they require to make managing chronic illnesses and conditions a little bit less complicated.
What Are the Symptoms of Chronic Illnesses?
Chronic illnesses require medical attention for over a year. These illnesses can substantially impact an individual's quality of life and make doing everyday duties even more difficult. Arthritis, asthma, respiratory ailments, diabetes, heart disease, various types of cancer, osteoporosis, and other chronic illnesses are chronic illnesses. Depending on the severity of the chronic condition, standard in-home care may not be sufficient to allow a loved one to live out their golden years in the comfort of their own homes.
Visiting Angels of Springfield, MO Can Assist Your Loved One
When an older loved one develops an age-related chronic illness, it can be challenging for family caregivers to provide the necessary care to allow them to remain in their home as long as possible. Moving a loved one into a nursing home or assisted living facility, on the other hand, may seem like a good option at first, but it can be terrible for your loved one if they still value their freedom despite chronic problems. Your family member can receive the care they require in the comfort and familiarity of their own home through the services provided by Visiting Angels of Springfield, MO.
Our home care services are tailored to the specific needs of every client. For those suffering from chronic illnesses, this means that they will receive the care they require to be secure and comfortable in their own homes and manage their symptoms. Even though our caregivers provide essential personal care, their assistance in improving the quality of life of seniors suffering from chronic illnesses is still required.
Some of the several ways in which our home health care providers assist our clients are as follows:
Meal preparation and planning
Light household tasks such as vacuuming, dusting, sweeping
Bathing, shaving, and dressing assistance are provided.
Assistance with toileting and incontinence care
Reminders to take medication
Assistance with mobility
Transportation to and from doctor's appointments, pharmacies, supermarkets, and other destinations
Memory care for the elderly suffering from dementia and Alzheimer's disease
Palliative care
Fall-prevention
Post-hospital transitional care
Visiting Angels of Springfield's Personal Care Mission
In our mission here at Visiting Angels of Springfield, MO, we hope to improve the amount of "happy days" your loved one has while simultaneously decreasing the likelihood of health issues. We make every effort to ensure that the senior care professionals we choose have the appropriate qualifications and character to join our team. You can rest certain that your loved one will be in skilled and compassionate hands while in our care.
Please call our Springfield, MO office if you would like to learn more about how our home health care services can make life at home simpler for your loved one.
Serving Springfield, Nixa, Ozark, Republic, Branson, Hollister, MO and the Surrounding Areas
Visiting Angels
SPRINGFIELD, MO
1259 E Republic Rd
Springfield, MO 65804
Phone: 417-863-8006
Fax: 417-863-1860