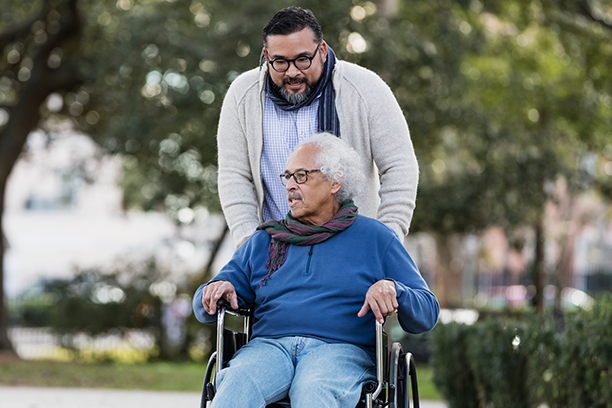 Personal Care Assistants for Transitional Care in Greater Springfield, MO
Anyone who has been a hospital patient or has had a loved one who has spent time in a hospital understands just how much they want to return home. Unfortunately, seniors are more likely to end up readmitted to the hospital, with almost 20% of Medicare patients being readmitted within one month of being discharged from a hospital, according to the Centers for Medicare and Medicaid Services (CMS).
Visiting Angels' Personal Care Assistants Are Here to Help Your Aging Loved One Transition from Hospital to Home in Springfield, Nixa, Ozark, and Surrounding Areas
At Visiting Angels of Springfield, our personal care assistants offer transitional home care in Springfield to help elderly adults avoid issues that might lead to hospital readmission. This helps them continue to age in place while being in the comfort and familiarity of their own home.
Why Choose Transitional Care?
Many different factors can cause a senior to be admitted to the hospital soon after a previous discharge.
Some of the most common factors leading to hospital readmission include the following:
Medication is not taken appropriately
Discharge directions are not followed, or the seniors cannot follow them on their own
It's challenging to manage an illness at home
Eating and sleeping routines were disrupted while in the hospital
Follow-up isn't done or isn't sufficient for the senior
Limiting Hospital Readmission with Transitional Care
At Visiting Angels of Springfield, our personal care assistants work to provide senior care to reduce the risk of hospital readmission. Our one-on-one home care program uses a three-prong approach we've created to help them transition back to their own home.
Start at the Hospital- Transitional care starts at the hospital. We'll work alongside your loved one's hospital discharge planner to get a better understanding of the home care requirements once they're released. We work with your loved one in Springfield, Missouri, to provide them with more information about what to expect from transitional care as well as discuss the causes of hospital readmission with them. We also provide them with our discharge planning guide called "Ready-Set-Go-Home."
Transitional Care in the Home- We also offer high-quality transitional care once they're home. Our personal care assistants at Visiting Angels of Springfield are going to monitor your loved one and provide both assistance and support following their discharge from the hospital. They'll gain important insight into your loved one's behavior to make it easier to spot any red flags, such as missed appointments or improper medication management. When these issues are spotted earlier, they can be dealt with promptly.
Support Through Our Office- Additional support is provided through our office in Springfield. The office staff at Visiting Angels of Springfield can assist with transitional care by using high-caliber tools to monitor high-risk clients. The office monitors them throughout their transition back home.
Learn More Today
Is your loved one in the hospital but getting ready to return home? Could transitional care be the right choice for your loved one? If your loved one is getting ready to be discharged from the hospital, contact Visiting Angels of Springfield at 417-863-8006 for more information on our personal care assistants in Springfield, Nixa, Ozark, Branson, and the surrounding area. We can provide you with more information about the transitional care our personal care assistants provide, and book a free, no-risk home care consultation today.
Visiting Angels of Springfield is here to assist; call us today to learn more about our senior care services.


Serving Springfield, Nixa, Ozark, Republic, Branson, Hollister, MO and the Surrounding Areas
Visiting Angels
SPRINGFIELD, MO
1259 E Republic Rd
Springfield, MO 65804
Phone: 417-863-8006
Fax: 417-863-1860