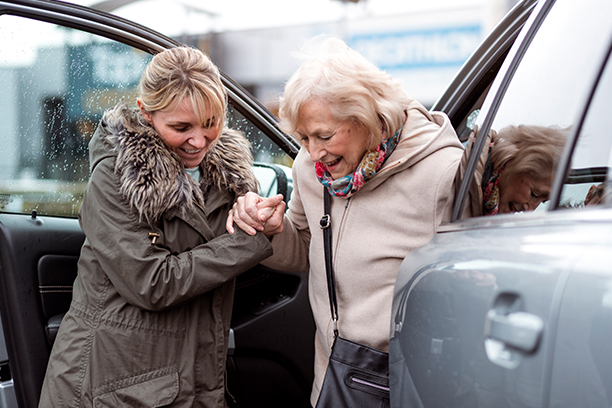 Home Care Specialists Provide Long Distance Services to Seniors in Springfield, MO and Nearby Areas
In today's world, it is not uncommon for adult children to move far from home to pursue job opportunities or personal passions. Parents also relocate as they get older and their children move out of the family home, choosing to retire to resort communities in warmer climes or cities they've always loved from a distance. Unfortunately, this can make it very difficult for loved ones to receive the senior care they need as they begin to age away from their younger family members. Visiting Angels of Springfield offers long-distance care services that are provided by our highly qualified home care specialists.
Visiting Angels' Home Care Specialists Offer Long Distance Care Options to Seniors in Springfield, Nixa, Ozark, Republic, and Surrounding Areas

Visiting Angels makes it easy to help families that are living in different states make arrangements to ensure the ongoing compassionate senior care of their loved ones as they age. All that's required of long-distance family members is a quick phone call to our senior care agency to begin the process of making arrangements.
Of course, there's more to long-distance caregiving than simply hiring a home care specialist to help around the house. That's why Visiting Angels also offers assistance to family members who are having difficulty understanding what they can do to help their loved ones from afar.
Making Visits Count

Once provisions have been made for your loved one's basic senior care, our in home care specialists can work with distant relatives to start thinking of ways they can help from afar.
This list might include:
Helping pay bills and managing finances.
Researching treatment options and medical procedures in order to educate themselves about their loved one's health.
Passing along information about their loved one's status to other family members and friends who might appreciate being kept in the loop.
Long-distance family members who have the opportunity to visit periodically should make those visits count. In addition to spending time with their loved one, they should also use it as an opportunity to speak to their one-on-one care providers in person regarding overall health and well-being. Not only will this ensure that the family member receiving senior care is getting the best treatment possible, but it will also help to relieve any nagging doubts that families may have given their distance from their loved ones.
Coordinating Information

It can be difficult to stay on top of things like medication schedules, newly developed health concerns, insurance benefits and claims, and other day-to-day practical concerns from afar, but it is possible. It's a good idea for long-distance family members to plan ahead as much as possible and get the paperwork in order to be prepared if an emergency arises. This should include a detailed network of family members and friends who want to be kept in the loop regarding their loved one's health status and overall well-being.
Even if regular visits aren't always possible, long-distance family members can stay in touch from afar using other means such as emails and phone calls, or even letter writing. In addition to routinely contacting their loved ones and our home care specialists, they should also try to find someone such as another family member, or a family friend who lives nearby and can provide feedback on how things are going. Taking this step in senior care can go a long way toward providing peace of mind for everyone involved.
Contact Us Today to Get Started

Get started with long-distance care today by contacting our agency. We will be happy to go over any questions you may have and schedule a free, in-home assessment with your loved one.
Call Visiting Angels of Springfield today or fill out our form and a home care specialist will reach out to provide you with more information or set up your free, in-home consultation!



Serving Springfield, Nixa, Ozark, Republic, Branson, Hollister, MO and the Surrounding Areas
Visiting Angels
SPRINGFIELD, MO
1259 E Republic Rd
Springfield, MO 65804
Phone: 417-863-8006
Fax: 417-863-1860