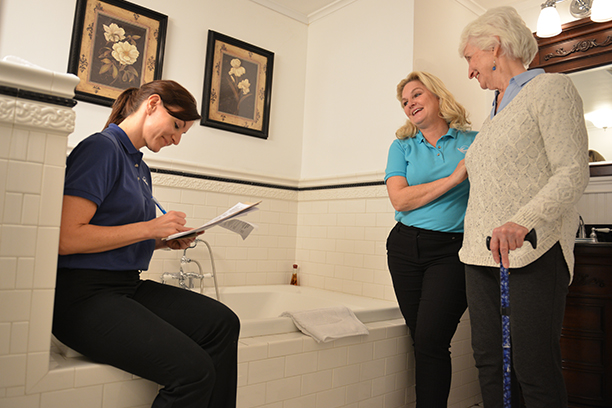 Visiting Angels' Medication Reminders in Greater Springfield, MO
Discover the restorative care at-home services at Visiting Angels in Springfield, MO, and the surrounding areas. As an elder, many developing daily life challenges, such as moving around the home and taking care of oneself, are difficult due to limited mobility and aging. Our senior caregivers are here to make those daily living activities, such as remembering to take medication, more accessible.
Visiting Angels of Springfield's Senior Caregivers Provide Medication Reminders in Springfield, Ozark, Republic, MO, and the Surrounding Areas
Our services include an important detail such as providing medication reminders. Our services are personal care—helping seniors to remember when to take prescribed medications. We do not administer medications, organize pillboxes, and more.
It is essential to take medication on the prescribed schedule to make sure they take the effect they are supposed to. Suppose your family member needs to take their medication at certain times of the day or a certain amount of time before eating. In that case, it can get overwhelming to remember all these stipulations. With our care providers, we are here to help.
How We Help with Medication Reminders
Our compassionate home care services can remind your family member when to take their medication in several ways. Your aging family member must take their medication correctly as medication helps maintain a senior's health, and incorrectly taking it can have serious adverse effects.
Our senior caregivers will assist with:
Monitor your family member for any side effects
Set medication timers and reminders
Ensure that your senior follow medication instructions
Monitor to ensure that your family member takes their medication on time
Keep a daily medication log
Our senior caregivers at Visiting Angels of Springfield strive to help your seniors maintain an active and independent lifestyle in their homes. Getting around the house, getting dressed, bathing, having a ride and assistant at events, doctor appointments, and more. Your senior can benefit from the customizable care at-home services our home care professionals provide. Meet with us during a free in-home assessment so our senior caregivers can provide the help your senior needs.
Schedule a Free, In-Home Consultation
When you call Visiting Angels of Lynchburg to inquire about our in-home care services, we can schedule a free consultation at your convenience. Let us know your schedule, and we can send a knowledgeable professional to your loved one's home to discuss your options and help you design a customized care plan.
Call Visiting Angels of Lynchburg today to learn more about our senior care and to book your free consultation.


Serving Springfield, Nixa, Ozark, Republic, Branson, Hollister, MO and the Surrounding Areas
Visiting Angels
SPRINGFIELD, MO
1259 E Republic Rd
Springfield, MO 65804
Phone: 417-863-8006
Fax: 417-863-1860