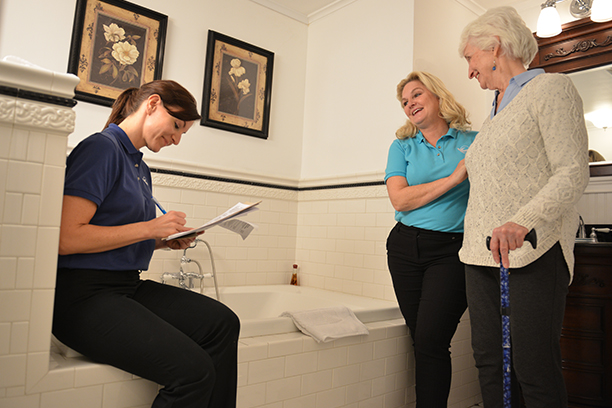 At Home Care Services in Springfield, MO and the Surrounding Areas
Visiting Angels of Springfield Provides At Home Care Services to Seniors
During the spring and summer months, most families' focus turns to health matters. The elderly must take additional steps to enjoy better health, and that's why at home care services in Springfield Missouri are in demand. While Visiting Angels does not provide medical care, our team makes it easier for people to age in a dignified way. Here, families will learn the benefits of our at home care services.
Always-On Care
From the small things, like frequent exercise, to bigger things, like periodic medical checkups, many adults are used to putting their needs off for others' sake. Seniors and their caregivers often share similar experiences, but self-neglect often brings negative health outcomes. A caregiver from Visiting Angels will help seniors change their lives by regaining their dignity and self-worth.
Easier Access to Proper Medical Care
Many elderly people need close medical supervision, and in some cases, it's crucial. While our team members don't provide medical care themselves, we make it easier for seniors by providing medication reminders and transportation to and from important medical appointments.
Better Nutritional Support
For adult children with aging parents, it's quite common to worry that they're not eating a balanced diet when they're at home alone. At its core, cooking is very much a social exercise. Therefore, an elder living alone may lose interest in cooking and food prep if there's no one around to share a meal with. With professional caregivers, Springfield residents are assured that their loved ones' nutritional needs are being met. Visiting Angels' caregivers will help with meal prep and cooking as needed, and they'll monitor and report changes in seniors' eating habits.
Caregivers Make Medication Management Easier
As is the case with families' concerns on nutrition, matters of medication management may also come into play. In some instances, a person's medication schedule may be so tight that even the most dedicated caregiver is challenged to comply with it. With help from our providers, seniors will find it easier to manage medications. With our reminders and dosage verification, we provide peace of mind to concerned family members who can't always be there.
A Full List of Our Services
Please take a look at our full list of at home care services:
Contact Visiting Angels Today
One-on-one care has another vital benefit: it's performed in the senior's home, where they're most comfortable. We help people age in familiar surroundings, where they want to be. If families or seniors need help or have questions, they can contact Visiting Angels of Springfield at 417-863-8006 for greater insight into our at home care services. Make Visiting Angels your loved one's provider by calling our office today. In addition to Springfield, our services are available in Branson, Ozark, Hollister, Nixa, Republic, and other nearby communities. You can also inquire about our at home care services by filling out our intake form by clicking the button below!
Serving Springfield, Nixa, Ozark, Republic, Branson, Hollister, MO and the Surrounding Areas
Visiting Angels SPRINGFIELD, MO
1259 E Republic Rd
Springfield, MO 65804
Phone: 417-863-8006