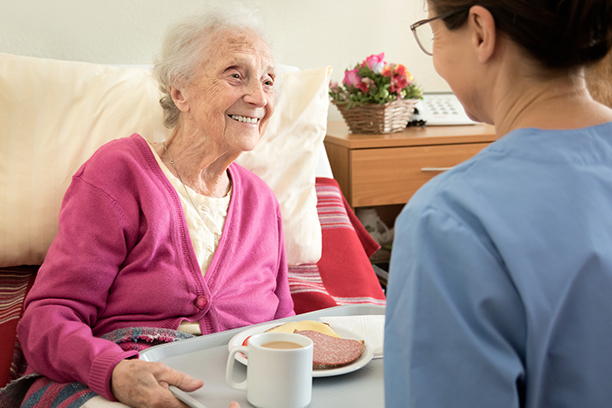 Private Home Care for Hygiene Assistance in Springfield, MO, and Surrounding Areas
As a person progresses further into their golden years, it is not uncommon for them to begin struggling with simple everyday tasks such as maintaining their personal hygiene and other personal care needs. The big issue here is that maintaining proper hygiene is essential to good health, especially for seniors.
If you have an elderly loved one who is struggling to care for themselves in Springfield, Nixa, Ozark, Republic, or the surrounding area, it might be time to start thinking about private home care.
Private Home Care by Visiting Angels Includes a Range of Hygiene Assistance Services Such as Bathing and Grooming for Seniors in Springfield, Nixa, Ozark, Republic, and Surrounding Areas
Be aware that most seniors have a hard time discussing the idea of private home care. They tend to be embarrassed by the thought they cannot handle their own personal hygiene. However, you should know the signs to look for before they start having a serious impact on your loved one's physical and mental health.
Look for these common signs:
An unkempt appearance
Strong body odor
Wearing the same clothing
Disheveled hair or appearance
Once you start to notice these signs that your loved one is struggling with their personal hygiene, professional private home care may be your best option. Providing this kind of care can make it possible for your loved one to continue living independently with their dignity intact.
How Home Care Can Help
Should your elderly loved one be struggling with bathing or showering due to mobility or health issues, it is possible they could end up with both physical and mental health issues. Thanks to the many personal care services our amazing caregivers offer, your loved one will receive the assistance they need to look and feel better. This can make it easier for them to enjoy their social life and be much happier and healthier.
Among the many personal care services our caregivers provide are:
Bathing or showering
Dressing and undressing
Grooming
Dental hygiene
Toileting and incontinence care
Although you might feel as though these are services you can help with, they can be very challenging for someone who does not have the right training. Along with this, we have found that most seniors would prefer a professional caregiver.
At Visiting Angels of Springfield, our amazing caregivers are fully trained and have countless hours' worth of experience in helping seniors with their personal hygiene tasks in the bathroom. Our caregivers are compassionate, caring, and discreet, and we believe you will find our care plans affordable compared to live-in facilities.
Learn More About Visiting Angels
The best way for you to learn more about our private home care for seniors in Springfield and the surrounding area is to reach out and contact our office at 417-863-8006 today. We will work with you and your loved one to create a care plan and provide a free in-home consultation with one of our experienced senior advisors.
Our caregivers are ready to assist you and your family. Call Visiting Angels of Springfield today to learn more about our senior care services.


Serving Springfield, Nixa, Ozark, Republic, Branson, Hollister, MO and the Surrounding Areas
Visiting Angels
SPRINGFIELD, MO
1259 E Republic Rd
Springfield, MO 65804
Phone: 417-863-8006
Fax: 417-863-1860