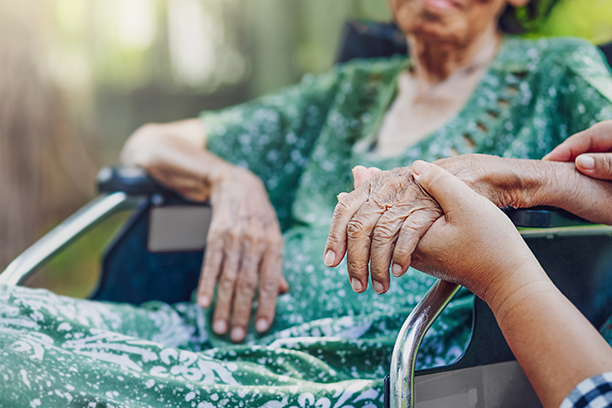 Comfort Care in Springfield, MO, and the Surrounding Areas
At Visiting Angels, we know it's not easy to make the decision to hire a caregiver to provide the comfort care you or a loved one needs. We use a personalized screening system at Visiting Angels of Springfield to help maximize your peace of mind. We want to make it easy for you to find the perfect caregiver for you or a loved one.
Visiting Angels Offers Compassionate Comfort Care to Seniors in Springfield, Nixa, Ozark, and Surrounding Areas
When you're ready to hire a care provider, you have the opportunity to interview any provider we refer to you. This enables you to find a caregiver you are comfortable with and can trust. Between our screening system and your ability to interview any potential caregiver, we can help you ensure you'll find the right provider for you or a loved one.
Screening Provides the Best Matches for Care
At Visiting Angels of Springfield, we take screening seriously. We don't just screen for the quality of the comfort care provider; we also screen providers to ensure they're going to be a good match for your loved one. Everyone is different, so screening potential providers for you enables us to make sure you're going to love the provider you work with. We check for their character and make sure it's going to meet your needs. We want to make sure you or your loved one is happy with the help provided.
Interview Potential Providers Carefully
Once our screening is done, we will refer a provider to you. At this point, you may want to go ahead and interview the provider on your own. This enables you to gather whether or not you're going to enjoy working with the provider and helps you ensure you're going to get what you need from them.
We are confident you're going to like the comfort care provider we refer, but we want to make sure you feel comfortable with them and feel as if you can trust them. Trust is incredibly important because they'll be in your home helping you or your loved one.
It can be hard to open your home to someone you don't know and rely on them to help you or a loved one. With our help, however, you can find someone you are comfortable with to provide the home care services you or your loved one needs. We work hard to match you with the right caregiver so you'll have the peace of mind that the necessary care will be received.
Count on Our Character
Our care providers in Springfield, Nixa, Ozark, Branson, and the surrounding area possess character and intangible traits such as a caring personality. We make sure your loved one is going to get everything they need through our program, including the compassion they need. We will make sure that when you try out our comfort care services, you can see that with Visiting Angels of Springfield, character matters.
Contact our agency today at 417-863-8006 to learn more about the comfort care that we offer, or fill out our intake form by clicking here!


Serving Springfield, Nixa, Ozark, Republic, Branson, Hollister, MO and the Surrounding Areas
Visiting Angels
SPRINGFIELD, MO
1259 E Republic Rd
Springfield, MO 65804
Phone: 417-863-8006
Fax: 417-863-1860