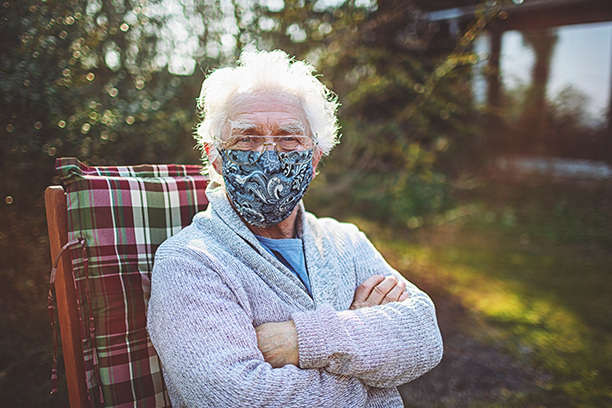 Compassionate End of Life Care Throughout Springfield, MO and Neighboring Communities
Visiting Angels Offers Essential End of Life Care Services to Seniors and Their Families in Springfield, Nixa, Ozark, and Nearby Cities

Although the end of life is a natural part of everyone's life cycle, it's not any less difficult. Today, more and more people are choosing to spend their final days at home. This makes it more important than ever for families to have the supportive and compassionate end of life care they need. Regrettably, this aspect of care may be overlooked in the training process for many caregivers today.

At Visiting Angels of Springfield, we believe families should be able to access the essential home care services they need through the end of life process. With our end of life services, our caregivers do as much as possible to keep your loved one comfortable during this transition.
While we do not provide hospice, we do work along with hospice care providers and help support them. We will also provide a helping hand for you and your family whenever it's needed.
Our In Home Care Services
End of life care services are often needed when a family member is diagnosed with a limited life expectancy. Many times, the responsibility of providing this care falls to close family members. If you're in this situation, it's possible you don't have the physical or emotional ability to do all of this by yourself. Our caregivers can help.
Visiting Angels of Springfield takes a client-focused approach to one-on-one home care. Our model is centered around making sure your loved one is comfortable and cared for. This can help minimize their discomfort, help them with personal tasks such as dressing or daily hygiene, and offer them a comforting presence so they don't feel lonely, stressed, or anxious.
While we're providing these essential home care services, we also make sure the family caregivers get the rest and help they might need. We offer services such as meal prep, laundry, shopping, and light housekeeping. We work to make sure our caregivers can provide help when family members feel overwhelmed, can offer emotional support, or can offer a helping hand.
We Provide Compassionate Care and Support
If you're in need of compassionate end of life care and support to help your loved one, Visiting Angels of Springfield can help. Contact our agency today to get help to find the essential home care services in Springfield Missouri for your loved one. We are happy to offer the information you might need and we can help you schedule a convenient appointment to meet with a care director from Visiting Angels of Springfield.
Contact Us Today to Learn More
Contact Visiting Angels of Springfield at 417-863-8006 for more information or click here to fill out our intake form. We will be happy to answer any of your questions about our on end of life care and schedule a free, in-home consultation with a care director.
Serving Springfield, Nixa, Ozark, Republic, Branson, Hollister, MO and the Surrounding Areas
Visiting Angels
SPRINGFIELD, MO
1259 E Republic Rd
Springfield, MO 65804
Phone: 417-863-8006
Fax: 417-863-1860