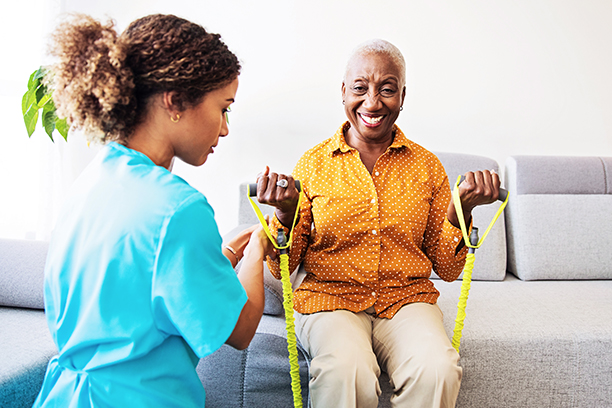 Do You Have a Question About Our Alzheimer's Care in Greater Springfield, MO?
Visiting Angels Offers a Wide Range of Alzheimer's Care to Families in Springfield, Nixa, Ozark, Republic, and Surrounding Areas
When a loved one is diagnosed with Alzheimer's disease the entire family is thrown into disarray. For most, it can be hard for them to navigate the murky waters of this disease, especially if the one diagnosed is a close friend or parent. At our home care agency, we offer a wide range of Alzheimer's care to help families during this trying time and provide comforting assistance along the way. If you have a loved one diagnosed with Alzheimer's disease, it may be beneficial to read the our commonly asked questions about Alzheimer's care below.
What Is Alzheimer's Disease?
Alzheimer's is the most common form of dementia, a general term for memory loss and other intellectual abilities serious enough to interfere with daily life. Alzheimer's disease accounts for 50 to 80 percent of dementia cases.
Learn more: What We Know Today and Related Dementias.
Is Alzheimer's Just Forgetfulness?
Alzheimer's is not a normal part of aging, although the greatest known risk factor is increasing age, and the majority of people with Alzheimer's are 65 and older. But Alzheimer's is not just a disease of old age. Up to five percent of people with the disease have early-onset Alzheimer's (also known as younger-onset), which often appears when someone is in their 40s or 50s.
Learn about the common risk factors of Alzheimer's.
How Does Alzheimer's Progress?
Alzheimer's worsens over time. Alzheimer's is a progressive disease, where dementia symptoms gradually worsen over a number of years. In its early stages, memory loss is mild, but with late-stage Alzheimer's, individuals lose the ability to carry on a conversation and respond to their environment. Alzheimer's is the sixth leading cause of death in the United States. Those with Alzheimer's live an average of eight years after their symptoms become noticeable to others, but survival can range from four to 20 years, depending on age and other health conditions.
Learn more about the 10 Warning Signs and Stages of Alzheimer's Disease.
Is There a Cure?
Alzheimer's has no current cure, but treatments for symptoms are available and research continues. Although current Alzheimer treatments cannot stop Alzheimer's from progressing, they can temporarily slow the worsening of dementia symptoms and improve quality of life for those with Alzheimer's and their home care providers. Today, there is a worldwide effort under way to find better ways to treat the disease, delay its onset, and prevent it from developing.
Learn more about the Standard Treatments, Treatment Horizon, Prevention and Clinical Trials.
What Are Its Symptoms?
The most common early symptom of Alzheimer's is difficulty remembering newly learned information.
Just like the rest of our bodies, our brains change as we age. Most of us eventually notice some slowed thinking and occasional problems with remembering certain things. However, serious memory loss, confusion and other major changes in the way our minds work may be a sign that brain cells are failing. Common symptoms include:
Difficulty remembering newly learned information
Disorientation
Mood and behavior changes
Deepening confusion about events, time, and place
Unfounded suspicions about family, friends, and professional home care providers
Serious memory loss and behavior changes
Difficulty speaking, swallowing, and walking
People with memory loss or other possible signs of Alzheimer's may find it hard to recognize they have a problem. Signs of dementia may be more obvious to family members or friends. Anyone experiencing dementia-like symptoms should see a doctor as soon as possible. If you need assistance finding a doctor with experience evaluating memory problems,
your local Alzheimer's Association chapter
can help.
Early diagnosis
and intervention methods are improving dramatically, and treatment options can improve quality of life.
How Can Visiting Angels of Springfield Help?
If you or a loved one has been diagnosed with Alzheimer's or a related dementia, you are not alone. Our home care agency offers a wide range of services to assist seniors and their families take hold of this disease. With our Alzheimer's care, your loved one will have access to resources and home care providers that can assist with daily tasks, personal care, companionship, and transportation to appointments. To learn more about how our Alzheimer's care can help, please contact our agency today at 417-863-8006.
Would you like to learn more about Alzheimer's disease? Locate a chapter of the Alzheimer's Association in your community.
Contact Us Today to Learn More About Our Alzheimer's Care
If you have an aging loved one who has been diagnosed with Alzheimer's Disease, know that you are not alone. Our home care agency offers dedicated Alzheimer's care services to help seniors stay independent, even with a cognitive disease. We can help in so many ways, like:
Establishing healthy routines
Preparing meals
Reminding seniors to take their medication
Preventing wandering
Driving clients to doctors' appointments and therapies
To get started with our Alzheimer's care, please contact us today by filling out our intake form by clicking here.
Serving Springfield, Nixa, Ozark, Republic, Branson, Hollister, MO and the Surrounding Areas
Visiting Angels
SPRINGFIELD, MO
1259 E Republic Rd
Springfield, MO 65804
Phone: 417-863-8006
Fax: 417-863-1860