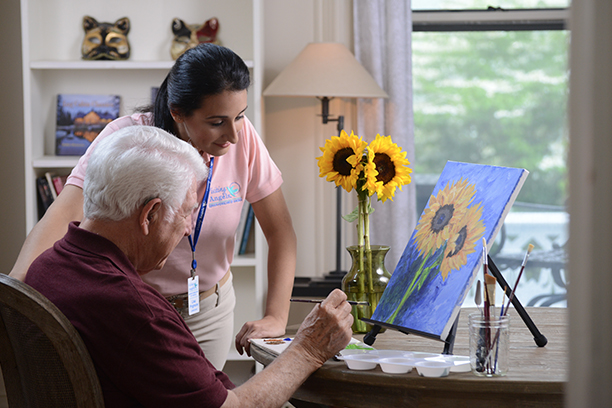 Home Care Professionals vs. Home Health Aides in Greater Springfield, MO
Depending on the care your loved one needs, you may not know who to turn to. Visiting Angels' home care professionals provide a holistic approach to our senior care services while home health aides provide medical services. It is important to know the different roles of an in-home caregiver and a home health aide when looking for care services for your loved one.
Visiting Angels of Springfield's Home Care Professionals Wants You to Know the Difference Between an In-Home Caregiver and Home Health Aide
In-home caregivers and home health aides provide distinct services, yet some people still use the terms interchangeably. When hiring a professional to care for your loved one, families need to recognize the differences to ensure their aging parent receives the level of care required. An in-home caregiver provides non-clinical care while a home health aide supplies medical care.
In-Home Caregivers

An in-home caregiver often referred to as a home care professional, is an individual who will help the senior handle daily living activities or provide needed companionship. Our caregivers only supply personal care or companionship, thus they are referred to as non-clinical workers.
In-home caregivers can assist individuals with:
Meal planning and preparation
Grooming, bathing, and personal hygiene tasks
Transportation to activities and events
Utilizing technology to keep in touch with friends and family
Home Health Aides
Home health providers are medical professionals. They may be a registered nurse, a physical therapist, or an occupational therapist with training to provide clinical medical care. Families may find that a doctor will prescribe a home health provider following hospitalization.
These types of aides can:
Administer medications, including injections
Carry out medical tests
Monitor the patient's health status
Provide skilled nursing services and therapies
Assist with wound care, pain management, and prescription medication management
A home health provider may be required when a loved one leaves a skilled nursing facility or rehabilitation. Seniors with a decrease in their level of functioning may benefit from a home health aide to help them regain their independence. Doctors may prescribe a home health provider whenever a patient's medication has been changed to ensure the medication is working and the side effects can be managed.
The roles of the in-home caregiver and home health providers may be combined to provide the optimal level of care for a senior. The key is to determine what your senior needs and provide that care. Visiting Angels of Springfield works to ensure this is the case for every client we serve and recommend a home health provider if our services are not enough.
If you think your loved one could benefit from working with a home care professional contact Visiting Angels of Springfield today!


Serving Springfield, Nixa, Ozark, Republic, Branson, Hollister, MO and the Surrounding Areas
Visiting Angels
SPRINGFIELD, MO
1259 E Republic Rd
Springfield, MO 65804
Phone: 417-863-8006
Fax: 417-863-1860