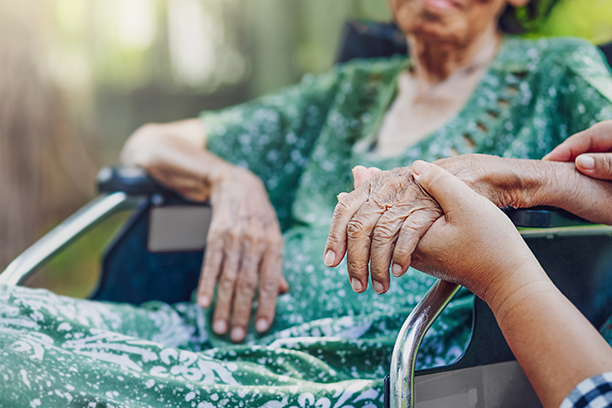 You're in Control of Your Elderly Assistance Plan in Greater Springfield, MO
Visiting Angels Keeps Elderly Assistance Plans Flexible and Customizable for Families in Springfield, Nixa, Ozark, and Surrounding Areas
Turning the care of your loved one over to another person can be frightening. Parents learn this when they drop their first child off at daycare. Most of us never stop to think we may have similar concerns with an aging parent. At Visiting Angels of Springfield, we understand this and work to ease the process for all.
To ensure everyone feels comfortable with the caregiver selected, we have all individuals applying for our caregiver jobs go through a careful screening process. This not only helps provide peace of mind to all, but it also helps us find the right caregiver for each client. The needs of the client are carefully considered to make certain the right person is selected and the personalities of both parties are taken into account. Furthermore, we provide every family with the opportunity to meet with the individuals they'll be inviting into their home. By doing so, we allow the client to remain in control when it comes to choosing caregivers they can trust to help their loved one.
Some clients turn to us for elderly assistance, as they need some time away from their loved one to recharge their batteries. Others are in need of a caregiver for palliative care or hospice services, while some families turn to us for long term care. Regardless of what is needed for the patient, we work to find the right fit for all parties. Some home health agencies don't take this step, assuming the family will be satisfied with whichever home health aide they send over. We recognize this isn't the case and are proactive in determining the needs of the client to find the right caregiver.
Control Remains in the Hands of the Client and Their Family
Many elderly assistance agencies don't take into account the daily routine of the client and family. The client is told when they will get up in the morning, when they must bathe or shower, what time their meals will be served and so on. Most independent individuals do not appreciate this, as they have been taking care of these things their entire life. They feel they are giving up control of their day and losing their independence in the process.
When a family opts to work with Visiting Angels of Springfield, they'll find they maintain control of their elderly assistance plan at all times. Our senior home care aides adjust to the schedule of the client, as this helps guarantee the client feels comfortable in their own home. This courtesy also extends to the family. If family members ever wish to sit down with the caregiver to discuss changing needs of the client or any other issue, we try to make the meeting convenient for all. It's hard enough having to juggle the demands of daily life while trying to care for a loved one, especially when the needs and schedules of other family members must be considered. We do all we can to accommodate families in this situation.
Safety First
Some families are hesitant to obtain elderly assistance for their loved one due to concerns over their safety. We always put the safety of our clients first. In addition to screening all of our employees, we maintain the necessary bonding and insurance to guarantee your family remains protected. Furthermore, we conduct a safety assessment of the home and make recommendations on how to keep your loved one safe while minimizing their risk of a fall or other accident. We treat each client as if they are a member of our own family, as we would want others to do the same for our loved ones.
Oversight Is an Essential Component of What We Do
We provide elderly assistance training and have steps in place to make sure our caregivers are doing the job we expect of them. Not only will each client be contacted on a regular basis to ensure their satisfaction with their caregiver, we speak to family members to see if they have any questions or concerns and address them promptly. We also visit the homes of our clients to determine the level of care being provided. Our caregivers strive to provide the highest level of elderly assistance at all times.
Serving Springfield, Nixa, Ozark, Republic, Branson, Hollister, MO and the Surrounding Areas
Visiting Angels
SPRINGFIELD, MO
1259 E Republic Rd
Springfield, MO 65804
Phone: 417-863-8006
Fax: 417-863-1860