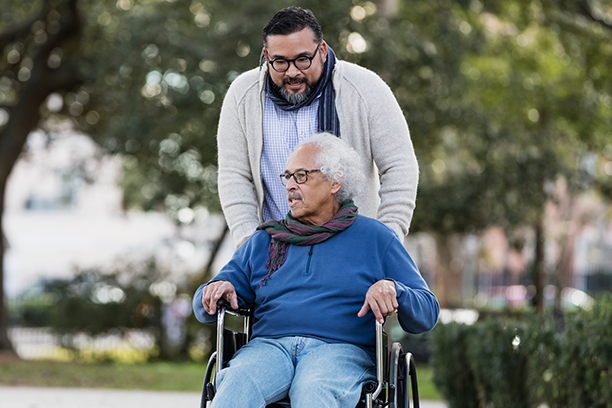 How a Home Care Assistance Agency Differs from a Home Health Care Agency in Springfield, MO
When looking for care for your loved one it is important to determine what their needs are and what type of agency is best suited to provide the assistance they require.
Visiting Angels Explains the Difference Between a Home Care Assistance Agency and a Home Health Care Agency in Springfield, Nixa, Ozark, and Surrounding Areas
The biggest difference between a home care assistance agency and a home health care agency is the level of medical care administered by the caregiver. Home health care agencies provide care to their patients with medically trained professionals, and in-home senior care allows the client to remain at home and retain their independence.
Home Care Assistance Agency
Senior care is provided by caregivers without medical training. Senior care is particularly beneficial for those who need help to stay at home and remain independent.
A home care assistance agency can provide services that include:
Assistance with activities of daily living such as bathing, hygiene, dressing, transferring, toileting, and eating
Help with other activities like housekeeping, shopping, errands, laundry, meal prep, medicine reminders, and simple companionship
Help with social activities such as recreation, visiting others, and going on outings
Transportation assistance
Respite care to give family caregivers a well-deserved break
Home Health Agencies
Home health care services are prescribed by physicians and administered by home health aides, nurses, certified nurse assistants, doctors, and licensed practical nurses.
Services may include:
Catheter care, IV infusions, injections, tracheotomy, and ventilator care
Teaching diabetes management techniques
Post-operative rehab, speech, and occupational therapies, and mobility training
Administration of medications
Pain management
Skilled assessments, discharge planning, facilitation of support groups, grief counseling, abuse investigation, and reporting
Disease management education
Wound care
Provision of durable medical equipment
Medical home health care agencies can help those who:
Have been discharged from a nursing facility or hospital but still need medical help
Are terminally ill and want to spend their last days in the comfort of home
Have short-term medical needs
Need medical help due to disability or age to stay in their home
When to Use a Home Care Assistance Agency or a Health Care Agency
In many cases, older adults may need essential home care and home health services concurrently. While both types of care focus on the healing, well-being, and safety of senior citizens, caregivers tend to emphasize the building of personal relationships with seniors. For most people, senior care is provided for a longer period.
By comparison, medical caregivers have brief contact with patients and the relationships are shorter. For instance, a senior recovering from surgery will see a medical provider and a caregiver until they recuperate. Once the person's condition improves, they have the option to keep the caregiver on in a part-time capacity.
Choosing the Right Option for Your Family and Loved One
Medical home health care agencies are best for those who have left a hospital, nursing facility, or rehab center after a lengthy stay and continue to have ongoing medical issues. Home health care services benefit those in need of medication monitoring and education on potential side effects. For instance, it is appropriate for those with diminished physical function, as it offers occupational and physical therapy in the home setting.
One-on-one senior care is good for those who simply need a bit of help to stay at home and remain independent. Our home care assistance agency can help clients with daily activities such as getting to doctor appointments, going shopping, and running errands. This type of care is often used when someone lacks mobility after a hospital stay, and it can also be used in combination with home health care services.
Contact Visiting Angels of Springfield today to learn more about how our senior care services can help your loved one stay happy and healthy in their home!


Serving Springfield, Nixa, Ozark, Republic, Branson, Hollister, MO and the Surrounding Areas
Visiting Angels
SPRINGFIELD, MO
1259 E Republic Rd
Springfield, MO 65804
Phone: 417-863-8006
Fax: 417-863-1860