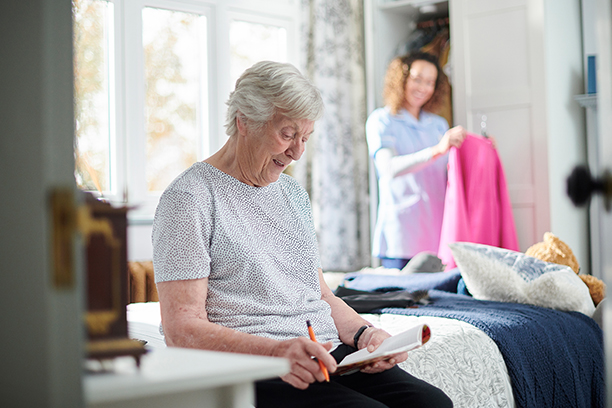 How Our Senior Home Care Services Help Aging Adults in Dallas, TX Manage Parkinson's Disease
At Visiting Angels, we offer top-quality senior home care services to older adults living with Parkinson's disease in Dallas, TX and surrounding areas. Our services are designed to help our clients continue living safely and independently at home, regardless of their medical condition. If your loved one is diagnosed with Parkinson's, we are here to help. We will gladly design a personalized care plan tailored to your loved one's needs and provide your them with a skilled and experienced caregiver.
What Are Common Symptoms of Parkinson's?
Parkinson's disease affects nervous system, causing stiffness and mobility issues. Although the symptoms of Parkinson's are barely noticeable in the early stages of the disease, as it progresses your parent's mobility and mental functioning will be severely affected. Seniors in later stages find even the simplest everyday tasks a challenge. Therefore, the majority of affected older adults require high levels of care provided by family members or professional senior home care providers.
The most common symptoms of Parkinson's include:
Frequent, recurring tremors
Slow but gradual decline in mobility
Balance issues
Depression
Anxiety
Sleeping disorders
Delusions
In advanced stages of the disease, seniors can even develop dementia which can lead to symptoms such as irritability, frightening hallucinations and getting lost during conversations.
How Can Parkinson's Care from Visiting Angels Dallas Help My Loved One?
Parkinson's disease causes number of complications that make everyday tasks difficult to perform. Since Parkinson's leads to mobility and balance issues, your parent might be prone to falls and injuries.
With Parkinson's care from dedicated senior home care providers at Visiting Angels Dallas, your loved one can continue living at home in their preferred routine, despite their medical condition. Since we have a lot of experience with providing care for seniors with Parkinson's, as well as Alzheimer's and other forms of dementia, you will have peace of mind knowing your loved one will receive the care they need.
We offer one-on-one support for seniors living with Parkinson's so there will always be someone there to assist them and make sure they stay safe when they need it the most.
Our Parkinson's care services include assistance with:
Mobility
Bathing
Dressing
Transferring and positioning
Shopping and running errands
We understand that seniors who are living with Parkinson's have constantly evolving care needs, which is why our senior home care services are flexible and our care plans can be adjusted at any time.
To learn more about our Parkinson's care services in Dallas, TX, contact our office today!
Serving Park Cities, Lakewood, Lake Highlands, East Dallas, Casa Linda and Surrounding Communities in Dallas, TX
Visiting Angels
PARK CITIES, TEXAS
8350 N Central Expy #M1018
Dallas, TX 75206
Phone: 214-368-2225
Fax: 214-853-5328