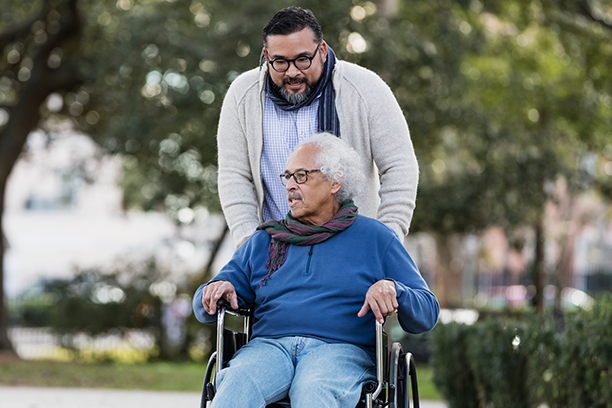 Positive Approach to Care: A Dementia Care Course for Home Care Specialists Throughout Marmora and Cape May, NJ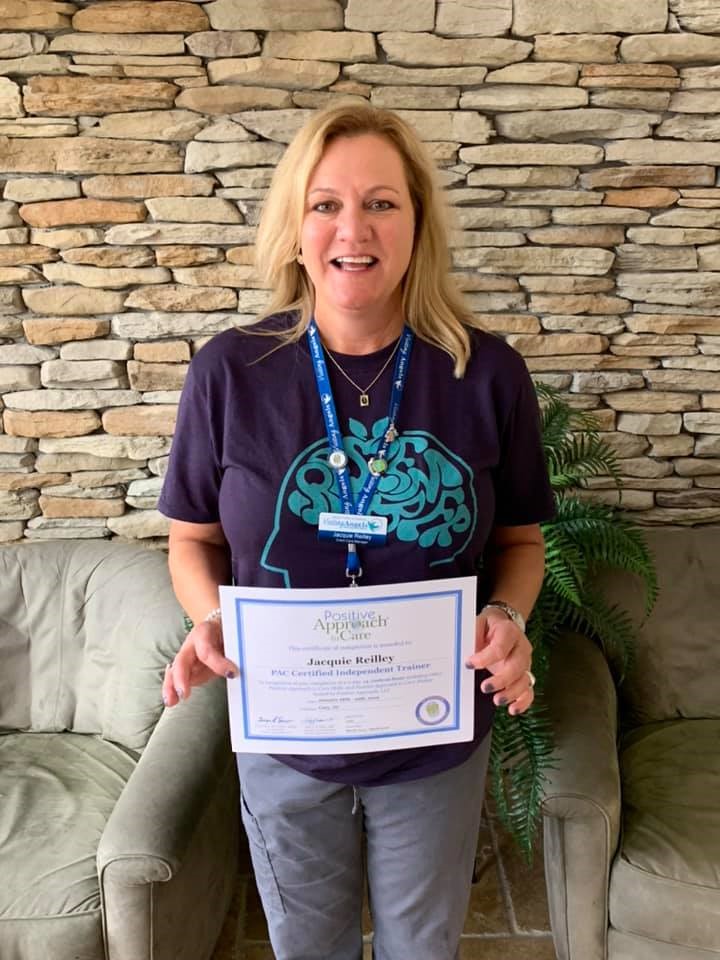 "Positive Approach to Care" Home Care Specialist Training in Marmora, Cape May, Elmer, and Cumberland Counties - Including Portions of Salem and Gloucester Counties
If you or a loved one are struggling with the effects of dementia, you can count on the team at Visiting Angels of Cape May. Our home care specialists have undergone specialized training, known as the Positive Approach® to Care (PAC). This program helps caregivers develop the knowledge and skills needed to care for people with dementia effectively. Our PAC dementia care training is a two-day course:
Training Day A – 2 hrs. – Normal vs Not Normal Aging
Workshop Objectives: By the completion of this 2-hour workshop, care partners will be able to:
1. Compare and contrast normal aging versus not normal aging-related to various cognitive functions.
2. Describe the five sensory input and processing systems, highlighting the dominant role of vision and the major differences between protective and discriminating sensations in each.
3. Discuss the impact of changing sensory awareness and processing as dementia progresses.
Training Day B – 4 hrs. – Positive Physical Approach, Hand Under Hand, & Teepa's Gems; Seeing More Than Loss
Workshop Objectives: By the completion of these workshops, care partners will be able to:
1. Describe changes in visual processing that impact a person's ability to initiate interactions and respond to efforts to communicate and interact initiated by others when dementia is present.
2. Compare and contrast unintentional and traditional social greeting and communication efforts with PPA™ structured interactions related to reactions and responses from the person living with dementia.
3. Discuss the purpose and value of using the Hand-under-Hand® technique with people living with dementia.
4. Demonstrate Hand-under-Hand® technique in at least four out of seven possible applications (greeting, comforting, attention, mobility, task initiation, tool/utensil use, and participation in tasks & activities).
Workshop Objectives: Teepa's Gems – care partners will be able to:
1. Describe three number-based systems that are used to label the stages/progression of dementia.
2. Discuss the value and importance of seeing people living with dementia as having retained abilities, value, and benefit from the right support and care to optimize performance and quality of life.
3. Identify six GEMS – highlighting GEMS state characteristics.
At Visiting Angels of Cape May, our goal is to equip our home care specialists with additional training to provide excellent care for our clients. After caregivers have completed both training days, they better understand normal aging vs not normal aging. Home care specialists after this course know how to use a positive physical approach with clients who have dementia and understand where seniors are in the dementia process.
Learn More Today
Instead of merely providing information regarding the symptoms of dementia, the PAC program dives deeply into how to approach managing an interpersonal relationship with someone who has a changing brain. This type of training affords seniors who have dementia the opportunity to remain in their homes, where they are most comfortable, versus living in a nursing facility. To learn more about our PAC training program for our home care specialists in Marmora, Cape May, Cumberland County, Salem County, Gloucester County, and the surrounding area, call our agency today.
Learn more about Teepa Snow's Positive Approach to Care or learn more about our care services by clicking one of the buttons below.

Serving Cape May & Cumberland Counties Including Areas of Gloucester and Salem Counties
Visiting Angels
CAPE MAY, NJ
110 Roosevelt Blvd #109
Marmora, NJ 08223
Phone: 609-545-8258
Fax: 609-840-6291