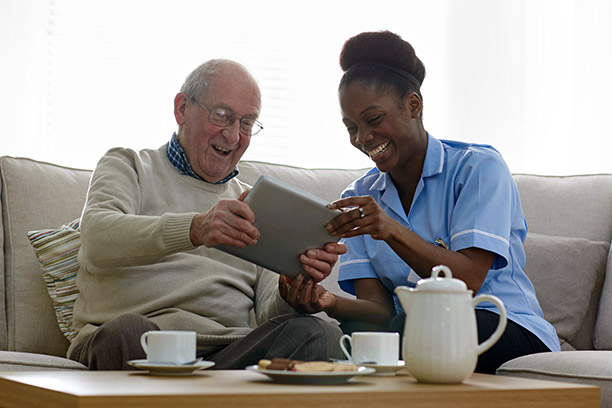 Alzheimer's Services in Greater Cape May, Elmer, and Marmora, NJ
As the family caregiver for an elderly loved one who has been diagnosed with Alzheimer's disease, you are going to need all the support you can get. You will get some of the support you need from other members of your family and your loved one's doctors and therapists. At Visiting Angels of Cape May, we offer a range of one-on-one dementia and Alzheimer's services in Cape May, Marmora, and the surrounding areas that can become a major player on your dementia care team.
Visiting Angels Provides Alzheimer's Services in Marmora, Cape May, Elmer, and Cumberland Counties - Including Portions of Salem and Gloucester Counties
Our home care providers offer a range of Alzheimer's services designed to be there for your loved one when their doctor has left off. Along with providing a wide array of Alzheimer's care services, our dementia and Alzheimer's professional caregivers offer emotional support to both their clients and their family caregivers. Our caregivers have a wealth of knowledge they will share with you to help make things a little easier and provide the support your loved one needs to continue living independently.
Essential Alzheimer's Care Services That Can Be Customized
No two people with either Alzheimer's disease or dementia will display the same symptoms. So, why would anyone want a "cookie-cutter" care plan? Here at Visiting Angels of Cape May, we work with our clients and their family caregiver to create a range of Alzheimer's services that meet their needs. Our care plans can be adapted and modified as needed as the memory care needs of your loved one change.
At first, when your loved one is diagnosed with dementia or Alzheimer's disease, chances are good that they require only a few hours of care from time to time. This is a great time to introduce them to their caregiver and allow them to get to know each other. If their disease is more advanced, you can arrange for around-the-clock Alzheimer's care services for constant supervision and assistance from a home care professional.
Visiting Angels of Cape May Offers 24-hour Phone Support
Your loved one's condition is going to change frequently, which is quite normal with Alzheimer's disease. Considering this, it is vital that the lines of communication between your loved one, all family caregivers, and Visiting Angels of Cape May are frequent. To facilitate this, we have a team of home care specialists on duty 24 hours a day, seven days a week. They can answer any questions you might have at any time.
Contact Visiting Angels of Cape May
If you have a loved one in need of essential Alzheimer's services, you can trust our caregivers at Visiting Angels of Cape May. Contact us today, and let us tell you about the many home care services we offer to families!


Serving Cape May & Cumberland Counties Including Areas of Gloucester and Salem Counties
Visiting Angels
CAPE MAY, NJ
110 Roosevelt Blvd #109
Marmora, NJ 08223
Phone: 609-545-8258
Fax: 609-840-6291