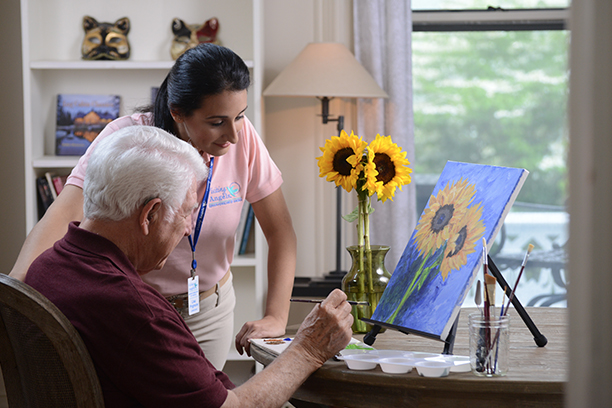 In Home Care in Cape May, NJ
Visiting Angels Provides In Home Care to Seniors in Cape May
Visiting Angels of Cape May is here to provide compassionate in home care to you or your aging loved one. Our services range from help with daily tasks to companionship and more. With customized care to fit the needs of every individual, our care can offer the freedom and safety that you and your loved one deserve.
How We Can Help
Visiting Angels of Cape May is committed to improving the lives of our clients so they can continue living in their home, close to the people and places they enjoy.
Our services include:
Care in Cape May
Getting out of the house and being active is important at every age. With in home care, our caregivers make sure to get our clients out of the house to socialize and enjoy what life has to offer. In Cape May there is an abundance of activities to enjoy!
Dolphin and Whale Watching
Observing some of the most majestic mammals on earth can be a life-affirming experience. Cape May Whale Watcher has been chartering cruises in the New Jersey Shore since 1993 offering the only "Marine Mammal Sighting" guarantee available. With a variety of cruises to choose from, there is an adventure for everyone!
The Lobster House
Enjoy a fresh seafood feast on the harbor at The Lobster House. On their menu is the freshest seafood available often caught by their own fleet of commercial fishing boats. Menu favorites include Cape May Salts fresh oysters, Fisherman's Wharf Clam Chowder, and the famous Lobster House Specialty.
Naval Air Station Wildwood Aviation Museum
Located inside of a real World War II hangar, the Naval Air Station Wildwood Aviation Museum will take you back in time. Visit to explore aviation and military history through educational exhibits, where the building is an exhibit in itself.
Contact Us to Learn More
In home care is an excellent solution for many people. If you are interested in learning more or have any questions, contact us or call 609-604-8176 for a free, in-home consultation.
Serving Cape May & Cumberland Counties Including Areas of Gloucester and Salem Counties
Visiting Angels
CAPE MAY, NJ
110 Roosevelt Blvd #109
Marmora, NJ 08223
Phone: 609-545-8258
Fax: 609-840-6291