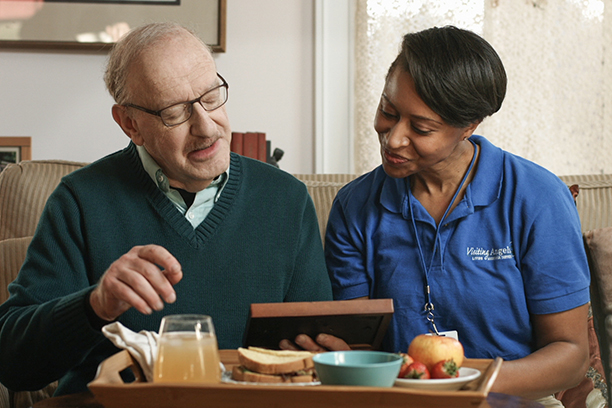 Get the Most Out of Your Free, Senior Care Assessment in Marmora, Elmer, NJ, and surrounding areas
To Provide You with the Best Senior Care Possible, We Require All Families in Marmora, Cape May, Elmer, and Cumberland Counties - Including Portions of Salem and Gloucester Counties to Schedule a Free, In-Home Assessment with Our Care Coordinator
When your family is ready to pursue in home senior care options, it can be hard to find the right care services, providers, and plans. When it comes to knowing what your loved one needs, no one knows better than you! That is why at Visiting Angels of Cape May we put you in control of our customizable care plans. You can pick the services, schedule, and budget of care. Get to know our highly personal and unique services by calling our local agency today.
Getting Started
When you call Visiting Angels of Cape May, you will connect with one of our care coordinators, who will work to understand your family, loved one, and care concerns. We will schedule a free, in-home consultation according to your schedule, and in the comfort and privacy of your loved one's home so we can get to know them and their lifestyle. Our goal is to understand your loved one's health, lifestyle, and goals so that we can build a plan to help them get there.
What We Will Cover
At the in-home consultation, we will cover every aspect of our senior care services, such as:
Finding the right caregiver. We match caregivers and clients based not just on caregiving expertise, but also on personality traits, humor, values, and hobbies. Our goal is to truly make a match, so that your loved one can enjoy a trustworthy, respectful relationship with their caregiver.
Available services. A Visiting Angel can help with any daily need your loved one experiences. Do they need transportation to doctor's appointments? Help grocery shopping or preparing meals? Help managing a medication schedule or mobility device? We can help with these tasks, and many more.
Cost of care. You are in control of the budget of the care plan, and our care coordinator can help you understand your options to make care within your budget.
Emergency contacts. We will record the right emergency contacts for your loved one, including family members who may need to be notified or receive status reports.
Additional Questions. Our care coordinator will be happy to answer any additional questions you may have about our services.
Contact Us Today
If you are concerned about the well-being of a loved one who wants to continue living independently, in-home senior care can make a difference. Contact Visiting Angels of Cape May at 609-604-8176 today to learn more about our customizable care plans.
Serving Cape May & Cumberland Counties Including Areas of Gloucester and Salem Counties
Visiting Angels
CAPE MAY, NJ
110 Roosevelt Blvd #109
Marmora, NJ 08223
Phone: 609-545-8258
Fax: 609-840-6291