In Home Care in Marmora and Elmer, NJ
In Home Care in Marmora, Cape May, Elmer, Cumberland, Gloucester, and Salem Counties
Visiting Angels of Cape May has been a leading in home care provider in New Jersey for years. We have the knowledge and expertise of a large organization with the personal attention and compassion of a locally owned agency. When you want quality care from a warm and skilled professional, you want Visiting Angels of Cape May.   
Comprehensive Dementia Solutions   
Many of the seniors within our community are faced with the challenges of Dementia. Our Comprehensive Dementia Solutions program can make a substantial difference in the lives of families impacted by the effeccts of Dementia. Click the image below to learn more about how we can help! 


Visiting Angels of Cape May helps seniors throughout the area live independently with our in home care services. If maintaining autonomy and staying in a family home is important to you or a loved one, home care can help. Our in home care services provide seniors with support around the activities of daily living, making it easier and more enjoyable to live independently. Our care also helps keep seniors safe and comfortable in their homes.
Assistance with Daily Living
You may be surprised to discover all the ways Visiting Angels of Cape May can help seniors at home. We look at the areas where seniors may struggle and find the best ways to lend a hand without being intrusive or stripping them of their dignity. Once we have identified the areas where your loved one could use some help, we will customize our in home care services to fit their needs. Our daily assistance services include:
Assistance with bathing, dressing, and grooming

Help running errands

Transportation to physician's appointments

Help planning and preparing healthy meals

Medication reminders

Assistance with light housekeeping tasks

Walking and transferring assistance

Joyful companionship 

Care Team Connect 
"When Visiting Angels of Cape May discussed the idea of a tablet for my dad, I was dead set against it from the beginning. My 89-year-old dad could hardly work the TV remote, let alone a "small computer." But since it was free for a month I agreed, thinking it would fall flat. Well, I couldn't have been more wrong! He enjoyed listening to his "old-time" music and loved the antique truck videos. He could watch those videos over and over. I downloaded some pictures so he could talk about them with his caretakers. It ended up being something he really enjoyed and it allowed him to interact with his caretakers and have some fun. Don't just brush this off, consider it for your loved one!"
- Debbie L.
Interested in learning more about our Care Team Connect tablet? Click the button below to learn more about this program!

Meet Visiting Angels of Cape May and Cumberland Counties Owner Debbe Bourgoin    
Visiting Angels of Cape May's owner and director, Debbe Bourgoin, is proud of the agency she and her husband have built. Not only has Visiting Angels of Cape May helped families throughout the area with in home care, she knows for a fact that her caregivers bring joy to the lives of their clients. She often hears from clients that their caregivers become like family and that the staff members make them feel valued and appreciated. To Debbe, this is the sign of successful senior care. To learn more about Debbe and Visiting Angels of Cape May, please click here.
Schedule a Free, In-Home Consultation
If you feel that you or a loved one could benefit from essential in home care, call Visiting Angels of Cape May to learn more about our services. Call us today for a free, no-obligation assessment or click the button below.

Meet Our New Caregivers
Please welcome Brittany, Marie, and Sukhdeep to our in home care team! They are all new hires who completed our Angels CHHA Schooling!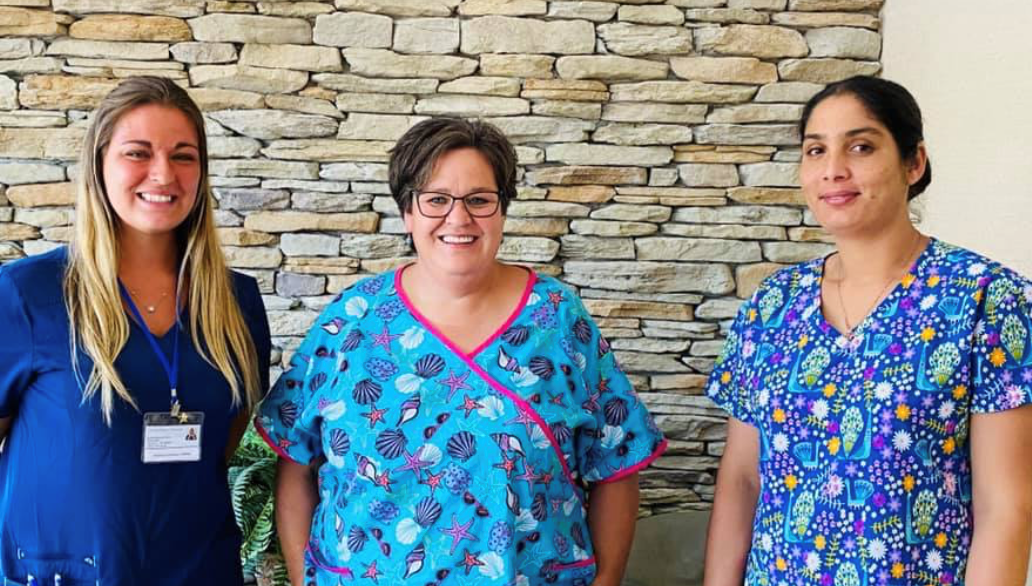 Meet Marie Shaffer - Compassionate Caregiver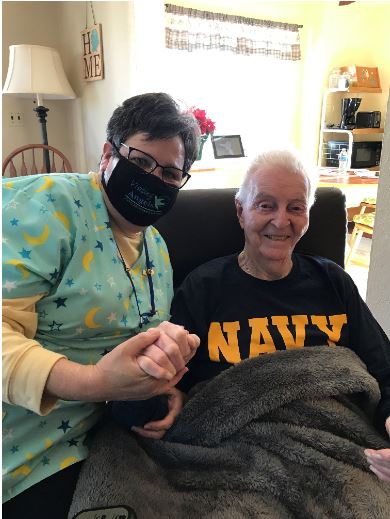 My name is Marie Shaffer, and I'm a caregiver with Visiting Angels! I used to work privately, but in 2020 I attended Visiting Angel's CHHA school to get my CHHA license, and began working with their agency.  
I have found a lot to be thankful for now that I'm an Agency Caregiver! As an Agency Caregiver, I have the opportunity for paid training and continued education opportunities, I receive pay raises and paid time off! It's reassuring that I am guaranteed employment and if I lose a client there will be additional work for me. I'm also covered under workers comp and liability insurance, and my payroll taxes are paid so my social security will be there when I need it. 
I also am thankful for my co-workers! There is an integrated team of care managers, nursing staff, schedulers, trainers and office staff – and there is employer intervention when needed! 
Lastly, I'm so glad that I work for an agency that promotes self-care. Caring for the elderly can be emotionally draining – but at Visiting Angels, you receive training on how to care for yourself, as well!